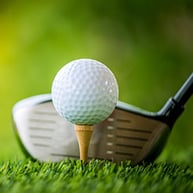 As you are aware, the continuation of the COVID-19 pandemic means it's still vital to limit social contact and avoid gathering. With the safety of our attendees and volunteers in mind, we've made the difficult decision to reschedule our 2021 GVTC Charitable Golf Classic. Originally scheduled for April 20, the event will now take place on Monday, September 27 at the luxurious TPC San Antonio/JW Marriott San Antonio Hill Country Resort & Spa. Our invitation-only President's Reception, which is a benefit in Gold Sponsorships and above, will be held Sunday, September 26.
GVTC is offering six golf sponsorship options and 11 non-golf sponsorship opportunities this year. Click here to see the sponsorships and what each includes. We appreciate all of those that have already signed up to sponsor the event. Those who signed up for sponsorship before the rescheduled date will have their registration carried over to cover the new date. The Golf Classic benefits The GVTC Foundation and serves as the only fundraiser for the Foundation, so all sponsorships are greatly valued.
The GVTC Charitable Golf Classic helps raise hundreds of thousands of dollars to help Health & Human Services, Youth Programs & Services, Volunteer Emergency Services, Education, Cultural and Public Charities.
So get your golf clubs because this is a fundraising event you won't want to miss. Click here to register today! If you have any questions or concerns please contact our Golf co-chairs: Sonia Aguillon & Rodney Preiss at info@gvtcfoundation.com.