6 Easy Steps for the Perfect Virtual Graduation Celebration
By this point, most of us have all heard of or attended a virtual graduation ceremony. Over the past two years practically all graduations, from elementary promotions to college ceremonies and everything in between, were held virtually.

For the 2022 graduation season, things are starting to open up again and many schools, colleges, and universities may be hosting in-person graduations, but that doesn't mean there still isn't a place for virtual graduations and celebrations. Whether you live out of town, out of state, across the country, or maybe your graduate just doesn't have enough ceremony tickets to accommodate all their family and friends who want to celebrate their accomplishments, whatever the reason, if your graduate is graduating from a school that is offering a virtual ceremony, here are six ways you can make it the best virtual celebration!
1. Make it a Party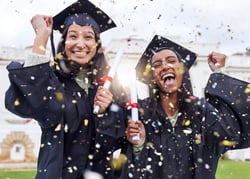 This step the graduate may have already taken for you, but if they haven't, why not go ahead and do it yourself?

Most likely you aren't the only family member or friend that will be tuning in virtually to celebrate your graduate. Find out who else is planning to watch the graduation virtually and invite them to a watch party.

Watch parties can be set up using platforms like Zoom or Google Hangouts and will allow all virtual attendees to chat and enjoy the ceremony together in real-time. You may not be able to celebrate together in person, but that doesn't mean you need to celebrate alone virtually.
2. The Perfect Set-Up
Next, you need to decide where and how you are going to watch the ceremony. Will you be watching it on your laptop or streaming it to your television? Decide what makes the most sense for your living situation and then get creative. Remember, since you'll be watching this with a watch party, have some fun with your background and your environment.

Think about picking up some banners, streamers, and other decorations to spruce up your background, it is a party after all. If you're viewing area doesn't accommodate decorations too well think about trying some fun virtual backgrounds. Get creative and have fun with it!
3. Dress Up
Your background isn't the only thing you'll want to dress up for this graduation, have fun with your own attire as well. Yes, technically you could roll up to your computer in pajamas and no one would notice, but why not treat this like you are really attending a graduation or a party?

Get dressed up! Think about the school colors of your graduate or your own alma mater. Be silly, think about hats and glasses and other fun festive accessories. You'll be in your own home, so why not go all out and really celebrate your graduate!
4. Don't Forget the Food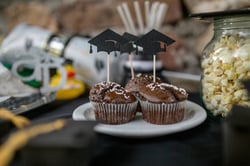 The best part about a party, besides the time with family and friends, is the food of course! Just because you won't be together enjoying each other's company doesn't mean you can't enjoy some good party food. Cook up some of your favorite party snacks or even order some goodies from your favorite local spot to enjoy during the ceremony. You could even use services like Uber Eats and GrubHub to send food to the other members of your watch party, so you all can enjoy a yummy snack while you watch the ceremony.
5. Send Gifts
Even if you can't be with your graduate in person, you can still send them fun gifts to celebrate their accomplishment.

Every graduate, whether completing middle school, high school, or college, appreciates a bit of cash, but there are plenty of other fun gifts you may want to consider sending your loved one. If you want some fun and unique gift ideas you may want to consider checking out these gifts:
Stick with the traditional money theme, but get fancy with it and send your graduate a cash cake.
Homesick candles are great for graduates getting ready to leave home.
For graduates with a sweet tooth, send them some custom cookies or a giant personalized fortune cookie.
Use Cameo to send them a special message from their favorite celebrity.
6. Internet
Last, but not least make sure you've got a fast and reliable internet connection. After all, this preparation would there be anything more annoying than a laggy video feed or worse a dropped connection?

Included with all Premium Wifi purchases is the GVTC WiFi App. With this app, you can also set up a network specifically for your guests and send it to them before they even arrive. With a simple click of a button, you can create an event, password, and a start to end time that you would like to share your network on. Once you accept and save the guest network settings, a contact list will automatically pop up so you can email a link directly to your guests for easy WiFi access when they arrive. Navigate back to the main screen, and you have the option to edit, delete, or send the network information to additional guests. Spend more time having fun and less time answering WiFi questions.

Click here to upgrade your internet service to GVTC and never worry about slow, fuzzy videos or dropped internet connections again!
---