Creative Ways I Transformed My Home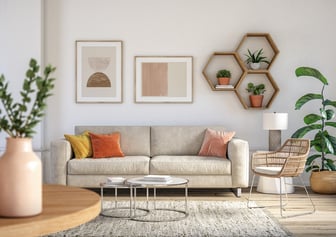 If you own a home, it's got to feel good, right?
Looking at the figures, you'll hear the resounding yes from homeowners. They spend between $13,000 to $15,000 on renovations alone.
But you don't have to sell your soul to fix your house.
With a little dose of creativity here and there, home improvement projects can become fun and affordable.
I mean, you don't have to re-sanding your floors or overhaul your basement all the time, right? Subtle changes matter too.
And they can be all you need at times.
So, I found some pocket-friendly options you'll love. Let's explore some tried and trusted ways to transform your space, creatively.
Embrace Negative Space
Negative space, in interior design, is the "empty" space around and between items. This space highlights the beauty and presence of a house piece. The "less is more approach" is magnificent for working with small spaces, as much as bigger ones.
To embrace negative space, declutter your home. Make do with the furniture or antiques you need.
If you're going to paint the house, now is the best time to choose your colors and get on with it. I'll recommend opting for a monochrome color that'll highlight a specific color in your room.
Experts suggest that white and grey are easy to work with. Of course, use your discretion.
If you're getting new furniture, go for the one with the right proportions for your home, not just how you see it online. Do a visual mockup of your room and see if it fits the design you're aiming for.
You can also pick one side of a wall and apply an accent wallpaper. It's easy, cheap, and makes a tremendous difference.
Separate Your Living From Working Space
Create a designated workspace.
When you work and live in the same space, it might be hard to separate the two mentally. Working from your bed each day might cause anxiety and make you less productive.
Of course, I know not everyone has a home studio, but you've got to work with what you have. So, I'll say, turn your spare room into a workplace. If that's not possible, set up a table and chair in one section of the living room with natural light and view.
Plants bring to life a home's design. Consider adding some to the workspace. Indoor plants can reduce stress by improving your mood and boosting productivity and concentration by 15%.
Let Your Furniture Arrangement Showcase the Room's Focal Point
Avoid dull living spaces. Give your room some pizazz by building around a dramatic focal point.
Do you have an interesting antique?
A large mirror?
Or perhaps a fireplace?
Move your existing furniture around to take advantage and showcase its presence.
While your room's focal point influences how you place your furniture, it doesn't have to mean the seating arrangement faces it.
Another thing to know is that your room may have several focal points. Highlight these points with decorative shelves and some house plants.
Add Some Color
You can play with colors while aiming for a minimalist transformation. But do it in moderation.
Swap the classic bulb with a colorful light bulb for a pop of color. You may try it in a hall with a narrow walkway to get that neon vibe.
Colorful textiles are cozy and give your home some personality. Use bright colored rugs with fine prints for a swoon-worthy home transformation.
Use Window Blinds
While curtains and drapes are gorgeous, window blinds are great for light control and making your space seem larger than it is.
Remember, not all blinds are the same. Usually, curtains fit a wide range of home décor. In comparison, blinds are for classic minimalist structures and clean-cut looks.
Get creative and use blinds in a traditional setting to bring on a contemporary structure to the room.
Create Fun Zones
A bedroom shouldn't be a bedroom if you have no use for it. So why not transform it?
You can turn a bedroom into a gym, a library, or even an office. Depending on what you call fun, the transformation can come in handy.
And if you've got kids - bonus points! Get creative. Create a cozy corner, an imaginative space, or a playground in one section of their room.
Finish the decoration with vibrant colors and removable wallpapers.
Find Storage Where You Can
It's always a great idea to fit more into your house without having to look like it.
Here's what you can do.
Get A Storage Ottoman
You may think it's not a great idea to buy extra stuff when transforming your home. But when you think of the different things you could do with it, you'll find it's not such a bad idea.
The ottoman is great for storing books, can serve as extra seating or footrest, or even a coffee-table when you place a coffee tray on it.
You can customize the ottoman upholstery to suit your home décor.
Transfer Kitchen and Laundry Supplies To Clear Containers
It's easier to access spices, dry cooking ingredients, detergent pods, and laundry supplies when you transfer them to glass containers. It's not only prettier but makes for better storage.
Labeling them will make it easier to sort and stay organized.
Repurpose Old Cabinets, Drawers, Boxes, and Crates
Putting your old stuff to a different use is another way to give your home a fresh look without spending bucks on extra furniture.
Old drawers and wire baskets can help you keep things tidy in the living room. You can also line up work tables or old filing cabinets in a row as a console table to store items.
Make the Best Out of Your Kitchen
The things that can fit in your kitchen when smartly arranged will surprise you.
Always think of unexpected places to store things.
Remember the narrow space between your refrigerator and the wall? That's a fantastic place to "hide" a pantry for canned foods.
Add extra storage with hooks inside cabinet doors to hang mittens and grocery bags. Utilize small kitchen space by hanging go-to ingredients in a hanging basket.
Be creative with the extra wall space in your kitchen. Use it to hang your pots and pans for storage. To do this, use a long towel bar, or just install hooks right above the kitchen work table for hangable utensils of all sizes.
Boost the Signal
It is easy to shake your router when renovating or improving your home. To avoid this, move your router to a safe location, and optimize its settings to boost the signal.
But technology is evolving, and extenders and routers are quickly becoming a thing of the past. GVTC offers fiber-optic internet for homes that don't require bulky extenders and modems to work.
Because of this, you can renovate or transform your home without having to worry about a failed internet connection afterward.
Tidy Up
When you're done, cross your t's and dot your I's for a perfect finish. This may be the last thing to do, but it is just as important.
Whether you go for an overhaul, scooch your furniture over, or find something better to do with your old cabinet, your options are endless, and the result is always satisfying.