Give your WiFi Network Love with ProtectIQ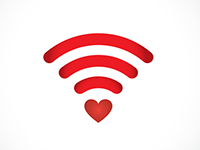 February is the month of love, and protecting your home WiFi network should be just as important as protecting your heart. Many people are unaware of the security risks that our devices can present unless they are properly protected with a secure Wi-Fi network.
You would never leave the front door to our house open but leaving our WiFi networks unsecured opens us up to the same security risks. Leave it open or vulnerable, and you might end up with neighbors that hog your bandwidth, at best. At worst, a hacker might take the opportunity to examine your internal traffic, hoping to learn sensitive information about you that can be exploited.
Our networks hold valuable information that can affect your finances and even your identity. That's why GVTC offers our ProtectIQ services free with our Premium WiFi Service, powered by WiFi 6. Protect IQ protects all connected devices in the home from malware, viruses, and malicious cyber attacks. It also alerts you when a threat is blocked and on what device and provides a status report on updates, any viruses detected, total intrusions, and web threats.
On our GVTC WiFi app, you can see each analysis's details and the current count and list of what has been blocked for the day. If legitimate content gets blocked for any reason, you can add it to our trusted content list and regain access to it. If you have specific devices you would not like screened for threats, you can turn off their network security scans.
Knowing all the devices linked to your network is imperative to ensure your network does not get compromised. The GVTC WiFi App makes it easy and straightforward to find out this information. Your app also gives you the ability to remove WiFi access for individual devices. This will come in handy for putting restrictions on your children's tablets or removing unrecognized devices from your network. Knowing what devices are on your network keeps you in control and allows you to manage any security issue.
Download the app today, and keep your WiFi anti-malware, anti-virus, and anti-worry!
---