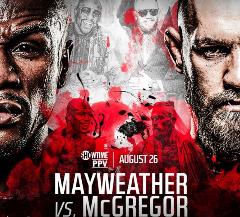 GVTC is pleased to offer customers the much-anticipated Mayweather vs. McGregor fight on Saturday, August 26, 2017. The event is available on GVTC Pay Per View channels, 301 (standard definition) for $89.95 and channel 302 (high definition) for $99.95.
The main card is scheduled to begin at 8:00 p.m. CST, with pre-fight coverage starting at 6:00 p.m. CST. Customers can begin purchasing the event at 5:55 p.m. CST. Due to anticipated demand, consider placing your order early to help ensure you don't miss any of the action.
Customers needing technical assistance with their Pay Per View purchase should call 800-FOR-GVTC and select the Mayweather vs. McGregor option.