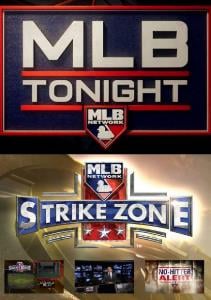 Just in time for the stretch run of the baseball season, GVTC is pleased to announce the addition of MLB Network and Strike Zone to our channel lineup, beginning September 1.
MLB Network has coverage on everything baseball, 24/7, throughout the year. Fans can watch live games, get the latest in baseball news, and catch along with other baseball-related programming.
MLB Network Strike Zone takes viewers on a high-speed trip around MLB during the regular season. When live game telecasts air on MLB Network on Tuesday and Friday nights, MLB Network Strike Zone brings fans to every game, with up-to-the-minute highlights, live look-ins and updates, all commercial-free. In addition to game action, MLB Network Strike Zone has the most updated scores, standings and stats throughout the night.
MLB Network and Strike Zone GVTC channels:
MLBN SD: Channel 107
MLBN HD: Channel 532
Strike Zone SD: Channel 429
Strike Zone HD: Channel 513 (Boerne)
Strike Zone HD: Channel 595 (Blanco)