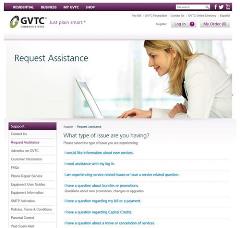 GVTC has just unveiled a new and improved online request for assistance feature on its website. Previously, requests for assistance were handled using a more general approach, with a single form for any type of issue. With the new online request for assistance features, users are able to find the specific area that relates to their concern and fill out a form that addresses their specific need.
Prospects can receive more information on GVTC products and services they are interested in without having to log into the system. Or if they are having issues with logging in, they can click on the link for that specific issue and request assistance. For existing customers, there are even more options from which to select. Requests can be submitted during or after regular business hours. They can review their existing services and inquire about bundles that could give them better value, request assistance for service issues, ask about a billing statements or inquire about capital credits.
By making it easier and simpler to request assistance, GVTC continues to deliver on its promise of providing superior customer service. This is just another example of how GVTC is creating Fiercely Loyal Customers.