Since 2011, The GVTC Foundation has awarded $203,000 in scholarships to local high school students and more than $3.3 million to charitable organizations throughout GVTC's service area since it started in 2006. And this year, there was a very exciting addition to scholarship opportunities!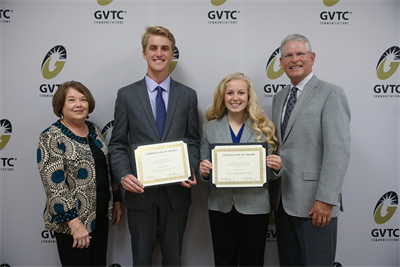 Noticing a need for it, The GVTC Foundation added two new Vocational/Technical scholarships for 2019, each worth up to $5,000 each. That means $50,000 total was awarded to graduating seniors in support of their higher education! Three seniors from Boerne and one senior from Waelder are the recipients of The GVTC Foundation's 2019 scholarships.
Shelby Curry, from Boerne High School, was awarded the Ritchie T. Sorrells Scholarship for Leadership, and Hunter Beaton, also from Boerne High School, received the Ola Armstrong Scholarship for volunteerism—each receiving $20,000.
Daniel Gormley, from Boerne Champion High School, and Honesty Fields, from Waelder High School, both received Vocational/Technical scholarships up to $5,000 each.
With the help of the New Braunfels Area Community Foundation (NBACF), these four deserving seniors were chosen from a vast pool of applicants.
Shelby demonstrated her strong leadership skills through her roles as Kendall County 4-H Council President, Teen Horsemanship Mentor, and multiple officer positions during her 10 years in the Kendall County 4-H Club. She plans to earn a Bachelor of Science degree in Agriculture Economics from Texas A&M University in addition to running for student government and their debate team. After she completes her undergraduate degree, her goal is to gain admission into Baylor Law School where she hopes to be an advocate for the agriculture industry. #0000149781-001-8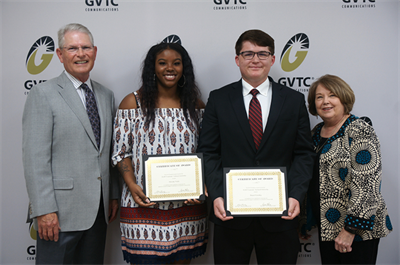 Hunter displayed volunteerism through his extensive work in the foster care system promoting the "Day 1 Bag" program that provides backpacks to foster children, his role as Life Teen Leader at his church's youth programs, and his time as National Honor Society President in high school. He will attend The University of Texas at Austin in the fall where he'll major in Communications and Public Policy in order to transition into public administration and become a positive force in policy change and community service.
Daniel was chosen for a Vocational/Technical scholarship for his 4 years of experience in the Welding program at Boerne Champion. As a Team Leader, he led his team to win 3rd place at the San Antonio Stock Show and Rodeo for a bottle table they created. He is attending Texas State Technical College in Waco, specializing in welding in order to become a licensed inspector.
Honesty demonstrated extensive leadership skills in her basketball and volleyball teams and yearbook committee, in addition to working two jobs outside of school. Her determination and work ethic set her apart. Honesty will attend the nursing program at San Angelo State University in the fall. She aims for a career at Texas Children's Hospital as a pediatric nurse.
All four recipients were honored during a reception at GVTC's Smithson Valley Headquarters, attended by their parents, school representatives, NBACF members, the GVTC executive team, The GVTC Foundation board of directors and employee volunteers. With excited congratulations and hopeful wishes, these seniors will take the next big step in life.
Interested in when applications open again or want to learn more? Visit https://gvtc.com/gvtc-foundation/scholarships and be one of the first notified about our 2020 scholarship applications!