5 Ways to Stop People From Stealing Online Deliveries | GVTC
It's always exciting to arrive home and be greeted by the spoils of your online shopping stacked at your front door. But you may wonder how long they've been sitting there and if it's always safe.
Leaving your online purchase deliveries to the mercy of porch pirates isn't a good idea. Some 31 percent of online shoppers have experienced package theft.
So how do you keep yours safe?
1. Use Security Cameras
Setting up security cameras is one of the easiest ways to get intruders to leave your online purchase deliveries alone. Most intruders like anonymity, so they won't bother with a home protected by security cameras.
Additionally, you'd capture intruders who either ignore the cameras' presence or don't know you have security cameras. Your camera doesn't have to function in isolation; you can connect it with a smart home security system complete with speaker and mobile accessibility. This way, you don't have to react to theft hours after it's happened.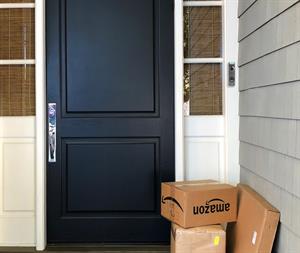 Security cameras connected to your smart home security system gives you the benefit of responding to potential threats in time. You'd connect your security camera to your WiFi, so you can stream this security event right on your smartphone, in real-time.
Hence, you can call the police, alert neighbors, set off your alarm, or respond to the situation as necessary.
2. Leverage Motion Detectors
Motion sensors can help you stop porch pirates before they steal your online purchase deliveries. This device would spot an intruder and trigger your smart home security system instantaneously.
Based on the alert rules you had set,
It could turn on your security cameras

Send you an email or SMS alert

Trigger your alarm
One of the biggest benefits of a motion sensor is that you have the room to respond to the situation quickly before the intruder steals your deliveries. For example,
If you use a GVTC connectHome, you can speak to the intruder, and if they hear your voice, they're less likely to steal your deliveries.

Call or alert neighbors

Inform your local police
GVTC connectHome sends you notifications whenever it captures motion around the areas you'd set to monitor. So, you can attach wireless motion sensors to your gates, doors or windows, and then set alert rules that will trigger if you have an intruder.
3. Schedule Delivery or In-Store Pick-Up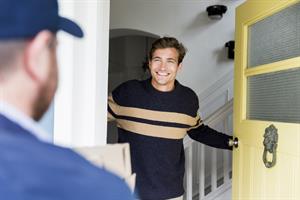 Your goal here is to meet the delivery in person or make first-hand contact with your product after purchase. So, you could schedule a delivery time that matches when you'd be home or go to pick up the delivery in-store.
Tracking your package is great, but on the off chance you don't make it home on time, you may consider rescheduling your package delivery time. Although package tracking is usually free, rescheduling delivery might require payment.
You may find it too expensive to reschedule your delivery or more convenient to pick up the product in-store. In either case, consider picking up your product whenever you can. In-store pickup can save you delivery costs, allow you to skip the queue in the store, and guarantee no thieves come sneaking up on your deliveries.
4. Arrange for an Alternative Location
Arranging for the product to be delivered elsewhere is almost like scheduling a delivery or picking up the product in-store. But unlike picking up the product yourself, someone would do it for you.
A neighbor who'd be home at the time the delivery person comes to deliver it

Your office, if your workplace policy allows you to accept deliveries

Let someone else receive it on your behalf (i.e. your teenage kids for example)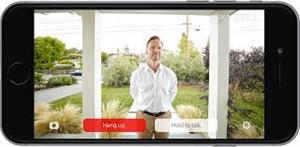 Alternatively, leave instructions for the delivery person to deliver the product to a more secure and less open part of your home (i.e. your P.O. Box).
Don't have a mailbox? Ask the delivery man to keep the product out of sight. If you have GVTC connectHome, for example, you could stream the delivery in real-time on your smartphone. So, you'd guide the delivery person to safely tuck the delivery package away from the prying eyes of porch pirates and intruders.
If you're arranging for an alternative delivery location, then track your package with the delivery company. Using a delivery tracker is critical to making sure the person receiving the product on your behalf will be available on-site when the delivery person arrives.
Luckily, USP, FedEx, and USPS all offer all options above to guarantee a successful delivery.
5. Put Smart Home Automation to Work
You can take the previous point even further by leveraging smart home automation. On example would be remotely opening your front door for deliveries when your delivery person arrives.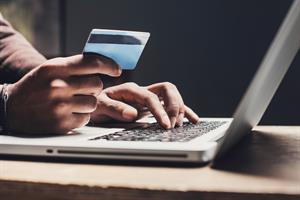 With GVTC connectHome, you would disarm your security and unlock your door to let the delivery person put your goods indoors. When they leave, you can lock the door again. All this happens remotely as you stream and watch the delivery in real-time, controlled from your smartphone on the Total Connect® 2.0 App.
What's more? You can do these things hands-free, too! If you're busy, use voice controls to arm or disarm your smart home security system.
In a nutshell, your smart home automation lets you stop people looking to steal your online purchase deliveries by providing these features:
Motion sensor or smart doorbell: Receive SMS and email alerts when the delivery man arrives at your residence. Your SkyBell® doorbell can also trigger a notification and have you talking with your delivery person.

Security camera: Stream the delivery happening in real-time and store the video in your phone library if you need to refer back to it.

Communication: You can hear and speak with your delivery person in real-time.

Secure locks and alarm: You can turn off your smart home security to let the delivery person in. When they're done with the delivery, you can lock your door and turn on your alarm system.
It can't get any safer than this; you've now denied porch pirates the chance to steal from you - and ruin a good online shopping spree.