GVTC Foundation Company Volunteer Days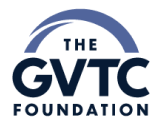 As a cooperative, GVTC aspires to improve the communities it serves in everything it does. GVTC has been more than a force for technological change in our community – it has been an instrumental voice in our well-being as Hill Country residents. GVTC pays it forward through its philanthropic arm, The GVTC Foundation. The foundation has donated over $5 million since its inception in 2006, supporting 100+ nonprofits across GVTC's service area with the same mission of enhancing the quality of life in the community.
Last year, The GVTC Foundation granted 100 organizations over $563,000 in monetary support. GVTC employees served over 29,000 volunteer hours in the community. From serving seniors to watching babies, the foundation is willing to take on any task to assist where we are needed.
The Foundation is 100% operated by employee volunteers, with support and contributions from GVTC Directors, employees, customers, individual donors, and the GVTC company. GVTC's foundation has been built on teamwork, family values, strategy, execution, hard work, and involvement in the community. To continue this tradition, each month, The GVTC Foundation sponsors a company volunteer workday.
During this workday, all GVTC employees are invited to come out and help one of our non-profit partners. Our employees have done everything from sorting items at food pantries to making care packages to painting and mowing. These workdays allow our employees to connect with our non-profit partners and better understand what each organization does to help our community. Our employee volunteers are amazing. The passion in each of these individuals is incredible. They possess servant's hearts and are committed to making a difference.
Being a part of the community makes us feel as though we are a part of something greater than ourselves. It gives us opportunities to connect with people and make our community a better place to live. There are many benefits to donating your time or money to your community, including growing your network, learning new lessons, and getting new inspiration and motivation.
Plant a seed in your community. Donate to The GVTC Foundation and support our mission to enhance the quality of life in the communities we serve.
From the technology connecting homes to the initiatives connecting people, GVTC and The GVTC Foundation are dedicated to building a stronger, better community in your neighborhood. We want to hear from you! Get in touch with The GVTC Foundation today!
---