How Protected Are You Against Package Thieves?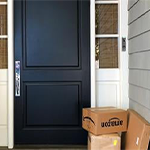 Package thieves are the modern-day plague - they lurk around the corners and steal your packages at every chance they get. Robbing you of your money, and the excitement that comes with unboxing your online orders.
Although your porch may be the next best place to receive delivered packages in your absence. They could get stolen if you don't have an active security system to deter thieves.
And if you don't tighten your home's security, you just might be a constant victim of package theft.
Want to know how protected you are against package thieves?
Take the quiz below to find out.
Security Quiz - How Protected are You Against Package Thieves?
How often do you shop online?
Almost regularly
When there's a massive sale
Once in a while. I only shop when it's necessary.
Do you usually stay home during the day?
Yes. Most of the time.
It depends on the time of the day.
No. I go to work and come back in the evenings.
Do you have a video doorbell?
Yes, of course!
I don't see the need for it.
I'm contemplating getting one.
When you're at home and someone shows up at your door, what do you do?
I answer as soon as I can.
Check my phone to see who's there.
Peek through my keyhole or window
Do you have an outdoor security system in your home?
Sure! Including indoor cameras.
No, I don't.
Not really, but we have a neighborhood watch.
When a package is delivered to your home in your absence. What do you do?
It will wait till I get home.
Ask anyone around to help me watch it.
Track it from my phone and use my security system to direct the delivery person on where to keep it safe.
Conclusions: (Kind of protected. Not protected)
Kind of Protected: You are a busy fellow. Always on the go with little or no time to monitor your porch or packages. While you may try your best with keeping your home safe and secure. Installing a video doorbell or any of our security cameras will guarantee tighter security and peace of mind.
Not Protected: You are a package thief's dream client - you are often away from home, with no security system, and your packages may be left at the mercy of porch pirates.
You may have been a victim of one or more package thefts. But you can switch things up by installing smart security gadgets in your home.
Smart Ways to Protect Your Packages from Porch Pirates
Keeping your packages at the mercy of porch pirates would cost you more money and stress. Therefore, it's best you stay one step ahead and secure your packages with the following smart tools and tips.
The tools include:
Video Doorbells
Unlike the regular doorbells that just ring when someone is at the door, a video doorbell does much more!
Video Doorbells allow you to monitor who is at your door via video feed. They can be wired into the ring system or used with the cloud DVR feature.
The Skybell video doorbell offers the following features to help you monitor all the activities on your porch and beyond.
HD video coverage
Perfectly syncs with your other security systems.
A two-way audio system.
Notification features.
Cloud storage and synchronization with the Honeywell 2.0 app.
You can use the video doorbell to remotely unlock your door even in your absence. Or, communicate with the delivery person on where you want your package to be kept. The sight of a video doorbell will scare the porch pirate from coming close for fear of getting identified.
Outdoor Security Cameras
When it comes to keeping an eye on your porch and packages, video surveillance is the way to go! It can help stop theft before it happens and notify you of the happenings around your property.
The connectHome outdoor camera takes security to the next level by providing the following features to help you combat package thieves.
8-megapixel sensor
Infrared LEDs
Two-way audio system
A 160-degree wide-angle lens
HD quality
Motion detection, and
Built-in night vision technology
With these innovative features, the connectHome camera can do wonders for your home security – making it easy to spot those pesky porch pirates immediately. They allow you to monitor your home and drive away package thieves at the click of a button.
Yard Surveillance Signs
One way to scare away porch pirates is by letting them know that someone is watching their every move.
These low-tech signs — often seen in neighborhoods — warn potential thieves that they're under surveillance and to keep their hands off your packages. A few of these scattered around your property is another good way to deter them from coming on or near your property.
Package Lockboxes
Package lockboxes are a great way to deter would-be thieves from going after your packages. The boxes are made of strong materials and fastened to the wall or floor to prevent theft or burglary. They help you secure your package and keep it away from public eyes.
In addition, these boxes come with a hi-tech digital lock that gives the delivery person a unique code to access the box without giving out the actual security code for the house.
Amazon Hub
Amazon provides residents with apartment lockers that they can use to secure their Amazon packages. The Amazon hub has different-sized lockers that could contain 99% of Amazon boxes.
As a homeowner, you can own an Amazon hub and use it to safeguard your packages. You can leave the hub unlocked for Amazon drivers to drop your packages inside, or lock it with a personal code. That way, no one else can access what's inside.
Other Non- Tech Measures To Prevent Package Theft
Asides from the techniques listed above. There are other non-techie measures that you could take to protect your packages against porch pirates.
They include:
Activate Delivery Alerts: Sign up for delivery notifications from the merchant to ensure the package is delivered safely.
Request for a delivery signature: This serves as the recipient's confirmation that the packages have been received. With this, you can be sure that your packages will be delivered when you're available. You can request a delivery signature as you place your orders online.
Schedule your delivery: Choose a delivery time that will be more convenient for you. That way, you will be at home to receive your package.
Try using an alternate shipping address: You can request for the package to be delivered to your office or a neighbor's home to ensure proper delivery.
You could also leave your packages at FedEx/UPS locations closest to you so you can pick them up when you're available.
Always ship your package with tracking information: This will let you track your packages and know the exact time it's supposed to arrive.
What You Should Do If Your Package Gets Stolen
While you may not have smart security gadgets to prevent or identify porch pirates. You could take advantage of the following tips to track your packages or get a replacement in case your packages get stolen.
Inform the sender: Call, text, or email the package sender to let them know that their package was taken, give them any details you have to help them take action. Some companies also offer online tracking tools to help you check if the package has been delivered or not.
Report to the carrier as fast as possible: Call or chat with the company that delivered the package and let them know what happens. They may ask for the receipt for proof of purchase and a copy of the police report if there is one. This could also help you get a replacement.
In the unlikely case that the package has not been delivered, the carrier company can help you track your package and notify you when it's available for delivery or pick up.
File a police report: Although packages are insured by shipping companies, they may ask for a police report in cases of package theft.
Contact the local police to make a report. This will help protect you in the future should the thief strike again. You can do this by calling your local police or sheriff's department.
If you have lost your packages to porch pirates before, you should consider investing in a smart security system. They're easy to install and provide peace of mind and premium security against package theft.
Stay Protected
With the holiday season in sight, package theft may become more rampant. So it's important to do all it takes to protect your packages and properties. This will not only save you money but also a lot of frustration.
Here are a few innovative ways to prevent package thefts:
Install a home security system
Activate delivery notification alerts
Schedule your delivery time
Ship to a secure location
Use the Amazon hub or package lockboxes.
So, whether you've been a victim of package theft or simply looking for ways to protect your home from porch pirates, with GVTC security gadgets, you can monitor your packages from anywhere. And have them safe and secure!
---