Many colleges require students to submit an essay as part of the admission application process.
In the words of Adam Sapp, senior associate dean, and director of admissions at Pomona College in California,
"The essays are important in part because this is a student's chance to really speak directly to the admissions office."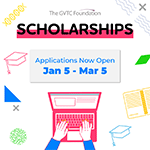 Just like colleges, some organizations also ask students to write essays to qualify for their scholarships. For example, the GVTC Foundation offers applicants up to $45,000 in scholarships.
The Ola Armstrong and Ritchie T. Sorrells scholarships, each for $20,000, require applicants to write an essay on community service and leadership, respectively.
For up to $5,000, applicants for the Vocational or Technical scholarship will also submit essays on their dream jobs.
Wondering how to write an essay that's unique, relatable, and stands out? Here's a simple guide for you.
Create an Outline
Of course, you know what to say, but how're you going to tell it?
An outline makes this easy. It helps you organize your thoughts and keep track of the direction of the story. An outline ensures you tell your story coherently and without missing any exciting part.
It's your blueprint.
To create an outline, think about what your readers need to know about what you want readers to know about your topic. Put down your thoughts on paper, organize the ideas into sections and then arrange them to flow logically.
Decide how to open the essay — with an anecdote, a question, or a dialogue.
Tell Your Story
A college essay is a personal statement — so tell the story in your voice, based on your personal experience.
Write a narrative essay and keep it personal.
You could start by describing the existing state of affairs around your world before a major disruption — to grab attention. Next, define the event or series of events that caused the disruption.
Take your readers through how this disruption affected you personally and the options that were available to you. Then describe the actions you took — this is the climax.
Close your story by telling your audience how that decision or experience informed the person you are today — this is the main point of your story — the denouement.
Choose an essay topic that had genuinely impacted you — whether it taught you something about yourself or significantly shifted your view on something else.
Use your essay to tell this story — keep the sentences short and punchy.

Awaken The Senses
We experience life through our senses, so tell your story in a way that'll make your audience feel something. Awaken their senses — sight, touch, taste, smell, and sound — with your narration.
Doing this makes your essay immersive, engaging, and relatable.
You have a good idea of how the scene looks, the characters, and how they dress. You might also have an idea of what they are doing, their personalities, and the sounds emanating from the scene — you name them.
Use the right words to briefly describe them in a way your audience can envision them, feel them and immerse themselves in the story.
Here's a brief example — let's assume you're writing about your experience of the California fire.
I spent the three months of my life in Oroville, California, where we fought helplessly, as an angry flame razed down our homes at night.
The bushfire approached from a distance, rapidly gaining speed every second and leaping from tree to tree. As if encouraged by the gentle presence of the wind, the sudden roaring fire tore through the silence of the night as it burned everything on its path, leaving only the marks of its destruction behind.
With the vile stench of smoke infiltrating our nostrils and choking our lungs, we fought bravely to save the remains of our properties in a battle; we knew we couldn't win.
Standout With Your Intro
Admission officers have many essays to go through in a day and they'd probably scan through most of the pieces. You could use your opening sentence to grab their attention.
The rule is simple — move your most compelling experience to the front and structure your essay around it.
If there's something unique about yourself and relevant to the essay, then start with that. You could go on to explain in detail in the story.
Avoid Clichés
A cliché is a word, phrase, or story plot people often overuse — to the point where it loses its original meaning and becomes irritating. Using them in your essay makes it bland, weakens the story, and muddles its originality.
So cut them out — being creative makes your essay unique, engaging, and stand out.
Also, avoid using worn-out similes and metaphors.
Phrases like "black as charcoal" don't work anymore. Consider using something out of the box or original — like "black as a starless night."
Be creative, show originality in your story.
Edit Ruthlessly
Editing is where you win the battle — it allows you to tie up loose ends and perfect your story — so take editing seriously.
We advise you to allow one to three days to pass before editing — and this means you have to start your essay early.
When you edit after writing, often, your mind sees what you think you wrote rather than what you wrote — this is because the ideas are still fresh in your mind. This illusion leaves room for a lot of unforgivable mistakes.
You could also use Grammarly premium to edit effectively. That's because the free version won't show you parts of your essay that appear plagiarized. Albeit, ensure the reviews align with the context in which you're using the words.
Give your essay to people for their inputs — act on the feedback and double-check everything.
Wrapping It Up
Go through your essay for the last time. Read it aloud to people, try to identify awkward phrases, boring descriptions — or anything that'll weaken your story or disengage readers.
Fix them, then go ahead and submit your essay.