Let's face it - no one likes paying bills. But it's a task that must be done. So, the quicker and easier it is to check it off your to-do list, the better.
That's where our GVTC Start App comes in. It's an app for customers to manage and access their accounts on the go. No more booting up your desktop computer, mailing in a check, or calling customer support to pay a bill. You can now do it from your phone! On the couch if you'd like. We're not judging.
Here's how:
1. First, download the app.
To get started, you'll need to download the app from either the Apple App Store or Google Play. Check out the full instructions on how to set up your GVTC Start App here.
2. Open you app and navigate to your account
Once you've downloaded the app, you can navigate to "My Account" by tapping on the menu option from the menu bar along the bottom of the screen.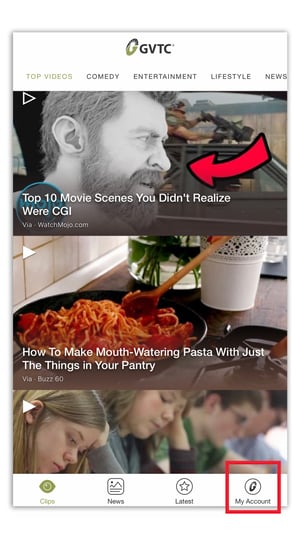 3. Log in to your account or create a new GVTC account
Tap on "Log in" if you already know your GVTC account login information, or tap "Register" to create new account credentials.
Tip: don't forget to write your login info down in a safe place, so you don't forget it.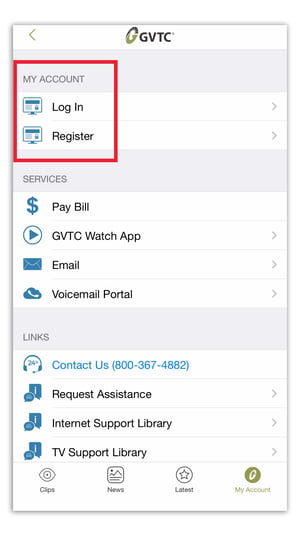 4. Select "Payments" from the menu
Once you're loggin in, your "My Account" menu will update to allow access to your unique account. You can select "Payments" and log in to your account once more to view your most recent billing statement.
Then, select the blue "Pay Bill" button to make a payment from your mobile device.
Tip: Toggle the "AutoPay" button directly below the "Pay Bill" button if you want automatic payments made. This way you'll never have to worry about missing a payment!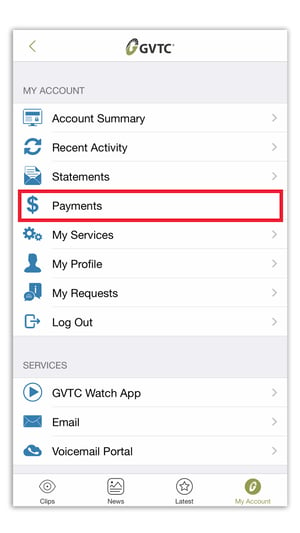 5. Follow Payment Instructions
After you select the blue "Pay Bill" button, you will be prompted to fill out your credit card information for a one time payment. Once you've filled out all necessary fields, you can review your payment before submitting and then click enter. Easy peasy!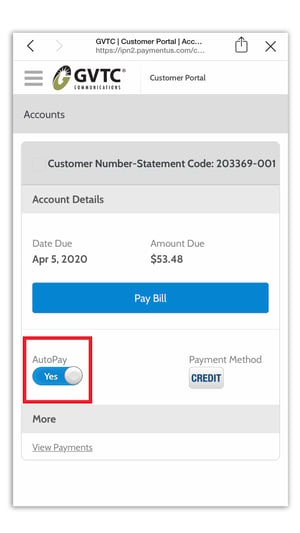 Additional Account Resources
In addition to making a payment on a service bill, you can also:
View your account summary info
Review current and past bill statements
Review your current GVTC services you subscribe to
Add additional services if you'd like
Submit a request for assistance if experiencing technical issues
Access resource links regarding customer support and your services