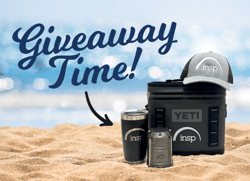 Channel surfing day after a long day and trying to find a new show to watch? Well we have a great option for you! Tune in to INSP to watch the Ultimate Cowboy Showdown. Jump into the world of real-life cowboys every Wednesday night.
This show features fourteen strong-willed cowboys that compete on Texas ranch to prove that they are the ultimate cowboy. The contestants go head-to-head in a number of grueling challenges, with Country music singer Trace Adkins and a panel of experts judging their skills, knowledge, grit, and passion.
This group of men and women from all across the nation bring diverse backgrounds, including a world-renowned horse trainer, an eight-time US team roping champion, and a professional bull rider, to name a few. There are five cowboys representing our great state! Juan Carolos "JC" Montes from Rio Grande City, TX, Cole Wideman from Lott, TX, Jackson Taylor from Lockney, TX, Hunter Arnold from Groveton, TX, and John Paul "JP" Gonzales from Pearsall, TX.
To celebrate our loyal TV customers we are giving away a cowboy gift basket that is worth over $250! The basket includes a Yeti cooler, lantern, tumbler cup, and baseball cap. All current cable customers are automatically entered to win. If you are interested in GVTC's TV bundles, visit https://gvtc.com/residential/tv. If you sign up for any of our TV bundles by the end of April, you will be eligible to win the basket as well. Click here to see the official giveaway rules.
You don't want to miss this show full of explosive drama and the chance to win the cowboy giveaway!