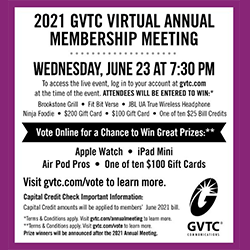 Active members are invited to attend GVTC's 2021 Annual Meeting on June 23, 2021. The Annual Meeting is usually held at the New Braunfels Civic/Convention Center but due to the COVID-19 pandemic, we have decided to hold the meeting virtually for the safety of our customers and team members.
The Annual Meeting will be hosted on a virtual platform. All members will receive an email to RSVP for the meeting with details on how to login into the Annual Meeting. A link will then be sent out for you to join the meeting by logging into your member portal on https://gvtc.com/.
GVTC's Annual Meeting is where members can learn more about the direction of the company, vote on the director of the board positions and by-law changes. Over $10,000 in cash and prizes will be given away. Click here for details on prize give-away rules, capital credit check information, and the board of director nomination process.
All votes will be collected and tallied prior to the Annual Meeting, though winners will still be announced at the virtual event. Online and mail-in voting will be open for active members starting May 31 and ends on June 22. Each person will receive personalized instructions through mailed letters and e-mails containing clear instructions on how to complete your vote! For more information, visit gvtc.com/vote.
This year and going forward, the Board of Directors has approved to apply each active members' capital credits to their June bills, ahead of the Annual Meeting. In the past, members who did not attend the Annual Meeting received their capital credits after the Annual Meeting. Former members will continue to receive their checks in July.
We look forward to seeing you at GVTC's 65th Annual Meeting. Click here to learn more!