Spring is in the Air, and so are Allergies!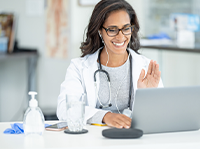 Spring is in the air, and so is the Texas cedar and pollen that we are oh so familiar with! If you need relief from your itchy eyes, sore throat, and runny nose or are concerned you could have more than allergies, it might be time to try telemedicine. Telemedicine is a service that seeks to improve a patient's health by allowing two-way, real-time interactive communication between the patient and the physician at a distant site.
Scheduling a virtual visit with a doctor is not only easy and convenient but also cost-effective. Being able to have your appointment from your home not only keeps you safe, but it keeps the staff and patients who have to be at the doctor's office from potentially being exposed to whatever illness you may have.
Some health care providers have sophisticated telehealth systems, which have a secure and private screen-to-screen conversation. There are also many other visual options used in the industry, like Facetime or Zoom. Some doctors even conduct their visits over the good old-fashioned telephone.
In order to ensure you can virtually meet with your doctor, it is imperative that you have a good network connection. GVTC's robust Fiber-to-the-Home (FTTH) is the solution to all your loading problems. GVTC unleashed its Fiber Internet, boosting its already blazing fast-starting speeds from 100 Mbps to speeds now up to 250 Mbps for both upload and download speeds, with options to upgrade up to 500 Mbps and 1 Gbps. Always the most reliable connection, FTTH offers greater bandwidth, faster speeds, durability, and more!
Make sure you and your loved ones stay safe and healthy this year by staying connected. If you are interested in smooth, fast, and reliable video conferencing, visit https://gvtc.com/residential/internet.
---