The Best Smart Devices To Give Your Kids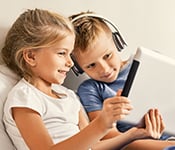 Our guess is, you are concerned about giving your child a smartphone because of the risks that come with it. However, you're in luck because you can give your kids other valuable items that give them the benefits of a smartphone, without the pitfalls.
Beyond keeping your kids entertained, these smart devices will help them develop essential skills like programming, creative thinking and also help them turn their hobbies into real arts.
Unfortunately, the offline and online market is now filled with tons of smart devices, and you may be confused while trying to make the best choice of smart devices for your kids.
Thankfully, we've got you covered.
We have compiled a list of the best smart devices to give your kids, according to different categories, purpose, and their age bracket.
Read along to find out.
Best Smart Devices to Give Your Kids
Whether you're looking for the best tablets, coding kits, cameras, or the perfect night light for your kids. The list below contains the best smart devices to give your kids.
We've grouped them into these categories:
Tablets for kids
Smartwatches for kids
Drones for kids
Coding Robots for kids
Gaming Consoles
Night Lamps
E-Readers for Kids
Bluetooth Speakers for Kids
Cameras for Kids
Let's dive in.
Best Tablet for kids
Amazon Fire HD 10 Kids Edition
The new 2018 Amazon Fire HD 10 Kids Edition is a great tablet for kids. It's durable, kid-proofed, and has a 10-inch screen. The parental control features also help you monitor your child's activities on the tablet.
Kurio Tab Connect
It has an 8-inch screen, 1GB Ram, 16 GB Internal storage, 5mp camera, parental control, family locator, and runs on Android 5.1 Lollipop. It comes with a rubberized back style, chunky design, and is lightweight.
Apple Ipad Mini
If you're looking for a more picture-friendly tablet, then the Apple Ipad Mini is your best bet. The tablet comes with an 8mp camera and a super clear screen resolution that is designed for taking crisp and clear photos and videos.
Best Smartwatches for kids
Asides from telling time, smartwatches are a perfect smart device for kids. If you're shopping for smartwatches for your kids? Then you should consider the following brands:
Vtech Kids Series Smart Watches
The Vtech Kids Series Smart Watches features a 1.9-inch touch screen and comes in four colors. It has several fun features like Animal Pals and Picturebook to keep the children entertained.
Verizon Gizmo Watch
The Gizmo Watch comes with a location tracker and SOS button to help you keep track of your kids and keep them safe. Including a blue and green LED light that helps you find them in the dark.
Frozen 2 iTimes Interactive Smart Kids Watch
The frozen smartwatch features a clock, alarm, stopwatch, timer, and an intelligent touch screen. It also comes with fun characters that your kids will love and play with.
Best Drones for kids
If your kid fancies videography/photography or seems like a budding drone pilot, then a drone might be the perfect gift to bring those sparks alive. Below are our top picks of the best drones for kids:
Snaptain
The Snaptain is equipped with a 12-megapixel camera, intuitive controls, and a range of up to 40 meters, and is perfect for photos, videos, and action sports recordings. The battery charges up in 90 minutes and supports a flying time of about 8 minutes at a time.
Potensic
The Potensic comes with a headless mode, 360-degree rollover, a phone holder, 2-way camera, and does a 3D flip. Including a detachable handheld transmitter, one key headless mode change, and one key return-to-home functionality.
EMAX
The EMAX drone comes with remote control and a built-in camera that transmits live video back to the controller. It is designed with a headless mode feature and a locator that takes the drone back to the take-off point, in case your child loses contact with it.
Best Coding Robots for kids
While there are a vast number of robot toys on the market, only a few offer the type of educational value like coding and programming lessons for your kids. Below are our top picks for the best coding robots
Learning Resources Coding Robot
The Learning Resources Coding Robot combines computer vision, artificial intelligence, and image recognition to create an experience that advances your knowledge in an engaging, entertaining, and visually interesting way.
Education Insights Artie 3000 Coding Robot
Artie -Artificial Robot Teacher for Intelligent Excellence is a smart coding toy. It has touch, sound/light sensors, and can be programmed by either moving his arms or head or via an app on your tablet.
Best Gaming Consoles
If your child loves games and needs a console to enjoy his/her games. The Nintendo Switch is easy to carry around and can be used to play a variety of online games.
The Nintendo Switch Lite has all of the same features as the original Switch, except for a smaller 5.5-inch display. It is specifically built for personal and hand-held video games.
But if you want a gaming console that would also pass a great learning tool, The Xbox One has lots of promising features.
Best Night Lamps
Safety is always a top priority when it comes to kids, and a night light can help to guide them or help them sleep better at night.
Lumi Pets Jumbo Bear Night Light
It is a 10-inch Jumbo Bear, made from plush fabric and has a white tummy, face, and paws. At the push of the button, the night light shines with an ambient glow to soothe your child back to sleep.
Hatch Baby Rest Night Light
Hatch Baby Rest Night Light is a smart night light for your baby. It uses an adjustable color temperature that helps your baby sleep better, and allows you to keep an eye on your little one wherever you are.
Boom Glo Night Lamp
Boom Glo Night Lamp is a nightstand lamp by day and a color-changing mood light by night. With a simple tap of a button, you can change the color of your room from cool to warm by using the 7 different color options.
Best E-Readers for Kids
Check below for our top picks of the best E-readers to give your kids.
Amazon Kindle (10th Generation) Kids Edition
The 10th-generation basic Kindle comes with a 6-inch E Ink touchscreen, 167 PPI pixel density, and a 4GB storage capacity with 512MB of RAM. You can pair it with Bluetooth speakers for hands-free audiobook listening.
Nickelodeon PAW Patrol E-Reader
The PAW Patrol E-Reader allows preschoolers to play games, read books, and explore the PAW Patrol world. The E-reader comes with a touch screen, a microphone for responding to commands, and a code to unlock a free book from a library of over 50 stories.
Kobo Libra H20
The Kobo Libra H20 has a 6.8" HD display with Carta E Ink technology which lasts up to 18 hours of battery life. It is water-resistant and also comes with the Kobo store which allows you to download over 5 million titles with 5 free book downloads each month.
Best Music Players for Kids
Our top picks for the best music players for your kids include:
Amazon Echo Dots Kids Edition
The Amazon Echo Dot Kids Edition is a smart speaker that comes with a colored case. It syncs with Alexa and also comes with a year of FreeTime Unlimited, which gives your kids access to a variety of
Mbox by Mintbook
Mbox by Mintbook is a wireless music player with Bluetooth capability and a built-in speaker. It has a battery life of about 6 hours of playback time and also features a full track-control button.
Google Homepod
The Google Homepod is designed to work as an ordinary speaker, but with the addition of a smart assistant that only responds to the sound of children's voice commands.
Best Cameras for Kids
Vtech Kidizoom Duo
The Vtech Kidizoom Duo is a fun and affordable digital camera for kids. It comes with a simple user interface that is easy to understand by young children. The camera features everything from a face detection feature to a self-timer.
Oaxis Myfirst Camera
Oaxis Myfirst camera is a complete photography starter kit for your kids. This digital camera is designed for kids aged 6+. The camera is easy to use, so your little ones can start using it right away.
Olympus Tough TG-6
The Olympus Digital Camera TG-6 is the first digital camera to feature Dual Image Stabilization. The feature combines 5-axis Optical Image Stabilization (O.I.S.) with 4-axis Electronic Image Stabilization (EIS) to deliver high-quality photos even when shooting hand-held underwater. It is an innovative camera for children who love the Olympic
Things to Consider When Choosing a Smart Device for Your Kid
Before getting a smart device for your child, it is best you put some conditions into consideration. This will give you an insight into what you should be expecting and help you make the right choices.
Internet Access
Most of these intelligent devices come with WIFI and internet connectivity to enable your kids to surf the internet, download files and update the device software.
That is why you should have reliable internet like the GVTC WiFi which comes with an ultrafast internet speed of 250MB per second. This will enable you and your kids to use the internet without hassles.
Parental Control
If you don't trust your child with free-range devices or internet access, you may need to look for a device with parental control options. This will help you censor the apps and sites that your child can visit and give you peace of mind knowing that your kids are safe online.
Durability
Kids are known to be very playful and agile and may not give special attention to their smart devices. That is why you need to go for devices that can withstand extreme temperature, water, and frequent falls.
Other factors to consider include: age, pricing, user reviews, the purpose you want the device to serve, and whether they need extra props to function properly.
Final Words
Smart devices for kids are more smart toys that your kids could use to play, read, do their homework, and learn more skills and hobbies. They can also help to keep your kids busy while you are busy with work.
However, if you are bothered about screen time and the addiction that may come with smart devices, you can always use the parental control features to limit the screen times and sites that they visit.
You can also use the Connecthome indoor cameras to keep an eye on your kids while they play with their devices.
---