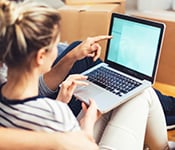 The COVID-19 pandemic has taught us many things, especially how important technology is during these unusual times. It has kept us connected to our loved ones, allowed our children to continue their education, given us the opportunity to work from home, and kept us up-to-date on all the events happening around the world. It has also allowed us to stay sane during quarantine by letting us binge-watch our favorite shows, play video games with our friends, and purchase our groceries online. At GVTC, we understand that superior technology is a vital component of our everyday lives. From TV to high-speed internet to top of the line security products, GVTC strives to give our customers the best products available.
Below are 6 factors you should consider when choosing your ISP.
Download and Upload Speed
Upload speeds are more important than ever, with most of our community working from home and participating in online learning. We strive to eliminate all issues and frustrations associated with the internet with our

GVTC Premium WiFi

.

GVTC Fiber Internet

has starting speeds up to 250 Mbps for both upload and download speeds, with options to upgrade up to 500 Mbps and 1 Gbps. What was already delivering blazing fast-starting speeds now has no competition in at home internet experience.

Type of Connection
With speeds anywhere from 4 to 20 times faster than the fastest cable connection, GVTC's robust Fiber-to-the-Home (FTTH) is the solution to all your loading problems because it allows you to not have to share your connection. To put things into perspective, let's compare the speeds between Fiber Internet and regular cable connection. An internet speed of 50 Mbps is usually considered a fast connection for standard cable but takes anywhere from 20 minutes to an hour to download movies or shows. With Fiber, a 1 Gbps speed could cut down an HD movie download from 22 minutes to about eight seconds. Always the most reliable connection, FTTH offers greater bandwidth, faster speeds, durability, and

more

!

Reliability

Reliability is especially vital if you're working remotely. You have to also consider the type of internet you have and other outside factors such as the weather. For example, adverse weather conditions can disturb your internet connection. But if you have fiber-optic internet, it usually means the connection will be strong regardless of the weather conditions.

Security

The safety and security of our employees and customer families is a top priority. That is why GVTC partnered with Honeywell to help give you peace of mind, even when you are away from home. GVTC connectHome is a complete, end-to-end security and home management solution that delivers comfort, safety, and peace of mind for today's homeowner, all controlled through a secure data connection and managed by

Total Connect™

either online or through a mobile app.

We also have two new safety features,

ExperienceIQ

: Enhanced Parental Control and

Protect IQ

: Network Security.

With ExperienceIQ, you can set profiles, content filters, screen time limits, and view network usage, so children learn on child-appropriate sites, apps, and devices. These controls will allow you to schedule your child's school day and make sure they only have access to specific materials during school hours.
Protect IQ protects all connected devices on your home network from malware, viruses, and malicious cyber attacks. If it's connected, it's protected! Receive alerts when a threat is blocked on each device, and provides a status report on updates and viruses. The best news is that Protect IQ is free with any internet purchase!

Equipment
GVTC Premium WiFi can blanket your entire home with a strong internet connection. Our mesh capable router is a next-generation smart home system. Leveraging the latest WiFi technology advancements, it combines blazing-fast speeds with full coverage to give you unrivaled internet performance. Unlike traditional WiFi routers, this Premium router is the central hub that powers your entire Smart Home. That said, this router can support mesh access points placed throughout your home to help extend WiFi coverage, which is especially helpful with larger houses. Whether you're streaming the latest cult favorite on Netflix, uploading a large presentation for work, or gaming online with friends, GVTC Premium WiFi has your home covered.

Customer Support

No matter how reliable your connection is, you're bound to have questions or need assistance with how to customize your smart home, for example. GVTC's local customer service team is here for any questions you have about our products or services. Creating Fiercely Loyal Customers is our goal, and we strive to take care of our community
Are you ready to embrace the future of technology today? Experience it with GVTC! Shop gvtc.com today.