10 HBO Shows Premiering in 2023 that you'll Love!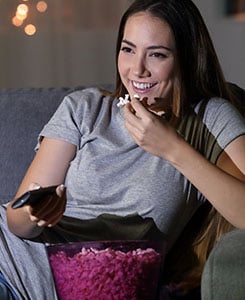 Whether you are a sports fan, a history buff, in need of a good laugh, or simply want to unwind by watching the drama of fictional characters unfold, the 2023 HBO lineup is guaranteed to have something for you! So kick off your shoes, grab a nice snack, and get comfy on the couch while we tell you all about the top 10 HBO series premieres you won't want to miss this year.

1. The Last of Us
Genre: Action, Adventure & Drama

One of the most talked-about and highly anticipated premieres of the year, The Last of Us needs to be at the top of your must-watch list. The Last of Us, based on the critically acclaimed video game with the same name, will follow Joel and young Ellie through a post-apocalyptic zombie wasteland, as they leave their quarantine zone and head west across the United States. This video game adaptation carries the weight of the expectations from a very passionate fan base, but with a creative team led by the well-received HBO drama Chernobyl creator Craig Mazin and the video game's original co-creator Niel Druckman, the show appears to be in good hands.

2. Succession - Season 4
Genre: Drama

The wait is finally over! Fans may have had to wait over a year, but picking up shortly after the conclusion of season three, the newest season of Succession will follow the Roy family as the sale of Waystar Royco to tech boss Lukas Mattson approaches, creating angst and division amongst the family.

3. White House Plumbers
Genre: Biography, Drama & History

If you're a fan of historical dramas, you'll need to check out the White House Plumbers. Loosely based on Egil Krogh and Matthew Krogh's 2007 book Integrity and starring Woody Harrelson and Justin Theroux, this five-episode limited series will tell the story of E. Howard Hunt and G. Gordon Liddy, two of the "masterminds" behind Watergate. Created by Veep alumni Alex Gregory and Peter Huyck, you can expect this show to not only tell a good story but to also pack a few good laughs.

4. Love & Death
Genre: Biography, Crime & Drama

Starring Elizabeth Olsen, Love & Death is a true crime limited series that will tell the true story of Candy Montgomery. A churchgoing housewife, in 1980, Montgomery killed Betty Gore, her friend, neighbor, and lover's wife.

5. Barry - Season 4
Genre: Action, Comedy & Crime

Fans of the acclaimed dark comedy Barry can rest easy. After season three's cliffhanger, Bill Hader will be returning to your living room, playing your favorite hitman Barry later this year.

6. The Idol
Genre: Drama

Starring Abel Tesfaye, better known as The Weeknd, and Lily Rose-Depp, The Idol is set in Hollywood's music industry. The series will follow Tesfaye, playing a self-help guru and cult leader, and his complicated relationship with rising star Jocelyn, played by Rose-Depp. Keep in mind, The Idol is brought to you by the creators of Euphoria, so you may want to make sure the kids are all in bed before you sit down to enjoy an episode.

7. True Detective: Night Country
Genre: Crime, Drama & Mystery

Fans may have had to wait four years since the last True Detective season aired, but their wait has been rewarded. Jodi Foster will be joining the cast of True Detective for its fourth season. Season four will follow detective Liz Danvers, played by Foster, and Evangeline Navarro, played by boxer actress Kali Reis, as they work the case of six missing men from a research facility in Ennis, Alaska.

8. Perry Mason - Season 2
Genre: Crime, Drama & History

The first season of this revived classic 1960s series presented a grittier, noir-like take on the story of Perry Mason, the 1930s Los Angles defense lawyer. Mason officially became a lawyer at the conclusion of season one. In season two, fans will get to see how that major piece of the original tale will be reimagined.

9. Gremlins: Secrets of the Mogwai
Genre: Animation, Adventure & Comedy

Gremlins' fans rejoice! While you wait for news on the planned Gremlins 3 movie, you can quench your Gizmo needs with an animated prequel series. This prequel will follow 10-year-old Sam Wing and how he came to meet Gizmo in China. An all-star cast, including Randall Park, George Takei, and Sandra Oh, will help bring this story to life.

10. Winning Time: The Rise of the Lakers Dynasty - Season 2
Genre: Biography, Drama, Sport

For anyone who missed season one (available for streaming now on HBO Max), Winning Time: The Rise of the Lakers Dynasty is based on true events and the stories told in the nonfiction book Showtime: Magic, Kareem, Riley, and the Los Angeles Lakers Dynasty of the 1980s by Jeff Pearlman. While the exact plot of season two has yet to be released, it is safe to assume it will pick up shortly after the conclusion of season one, which covered the Laker's 1979-1980 season.

Don't have HBO? Don't worry, it's not too late. Click here to shop GVTC's television packages, and be sure to add HBO today!
---