Everything You Need to Know About HBO Max™
If you haven't heard about HBO's new streaming service, it's time to come into the fold. We're talking about the new kid on the block this month: HBO Max™. It's part HBO, part Warner Brothers, part Cartoon Network. Really, it has at least one big hit for everyone in the family, and it's making waves in the streaming world.
What is HBO Max

™

?
What's more? HBO Max™ promises to release 30 new original series in 2020 and 60 new original series in 2021 to support its recent launch. Sounds too good to be true? See what HBO Max™ has to offer for yourself.Currently, there's HBO Now, HBO Go, and now… HBO Max™. So, what's the difference? You can say this new big-league streaming platform has it all. In addition to gaining access to HBO's original library, HBO Max™ teamed up with production giants like Warner Brothers Pictures, DC Entertainment, and more to bring you 10,000+ hours of some of the greatest hits.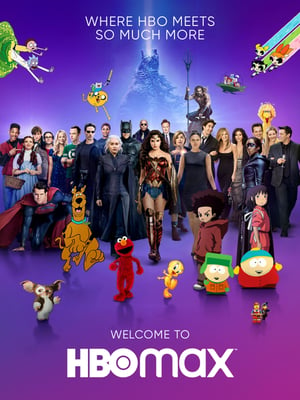 What's in the HBO Max

™

library?
We teased a few of HBO's partners for its newest platform, but let's talk about exactly what is included in their library. HBO signed deals with the likes of Warner Bros. Pictures, New Line Cinema, DC Entertainment, TBS, TNT, TruTV, CNN, Cartoon Network, The CW, and more to bring you timeless classics and fresh new content.
So, not only do you get access to HBO's full catalog of shows and movies, but you also get what was missing. Some of those classics include Friends, Big Bang Theory, Fresh Prince of Bel-Air, South Park, the entire Harry Potter series, Studio Ghibli, and Doctor Who. The list goes on.
And, now that the service is live, you can easily browse the current HBO Max™ library on Reelgood before committing. No one likes buyer's remorse after all.
What devices can stream HBO Max

™

?
HBO Max™ is available on a variety of devices, including phones, tablets, browsers, TVs, gaming consoles, and digital providers. Thus far, HBO has confirmed support on the following devices and platforms:
GVTC Elevate

- HBO Max

™

app is accessible through the GVTC Elevate TV Guide, available with GVTC Cable subscription

GVTC Internet

- You can bundle your Fiber Internet service with HBO Max

™

as one of GVTC's new OTT offerings

Apple App Store

- free HBO Max

™

app

Apple Devices - iPhone, iPad, iPod Touch, Apple TV 4K, and Apple TV HD. However, older second- and third-generation Apple TV models don't support it.

Android App Store

- free HBO Max

™

app

Google Android devices - Android TV devices, Chromebooks, Google Chromecast, and Chromecast built-in devices

Playstation Store

- free HBO Max

™

app available for PlayStation 4

Microsoft Store

- free HBO Max

™

app available for Xbox One
Already have HBO?
For all current HBO subscribers, no further action is needed. You automatically gain access to HBO Max™ by simply using your HBO login credentials at sign-in! For instructions on how to authenticate your account in HBO Max™, check out this explainer video for details.