2022 Scholarship Applications are Now Open!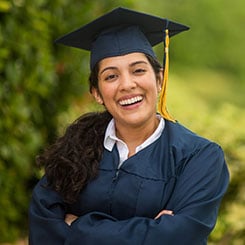 Education is a focus for The GVTC Foundation. The foundation strongly believes in supporting the schools, educators, and students. We want to reward students who share our passion for giving back to the community by helping pay for their higher education. This year, The GVTC Foundation will award students within our service area with two university scholarships, one worth $25,000 and one that is $15,000. We also are offering a $5,000 vocational scholarship. That's a total of $45,000 for higher education!
This year, one senior high school student who exhibits outstanding leadership qualities and has used innovation or technology to impact our community positively will receive the $25,000 Ritchie T. Sorrells Leadership Scholarship. The $15,000 scholarship will be awarded to a college-bound graduate exemplifying extraordinary service, volunteer work, and involvement in their local community with the Ola Armstrong Scholarship. GVTC Communications will also continue to offer one vocational scholarship worth $5,000 for students interested in attending a technical college to help enhance their communities and support themselves.
If you are a graduating senior in high school from a household subscribed to at least one GVTC service, you can apply to one of our three scholarships available through The GVTC Foundation. To learn more about these opportunities and see if you qualify, click here for more details.
GVTC and The GVTC Foundation are dedicated to building a stronger, better community in our neighborhoods, from the technology connecting homes to the initiatives connecting people.
Whether it be time or money, your donations are very valuable to what we do for our community and do not go unnoticed. We are so grateful to our customers for their participation in the foundation and want to take the time to say thank you!
You can participate in our Round Up for Change program if you want to donate. By enrolling, your monthly GVTC billing statement is rounded to the nearest dollar amount as a donation to The GVTC Foundation. Once matched by GVTC, those pennies go directly towards scholarships, grants, and event sponsorships throughout GVTC's service area. For less than a dollar each month, you can join thousands of customers looking to make a difference.
We could not do what we do for the community without you all!
---