Are you ready for some Football?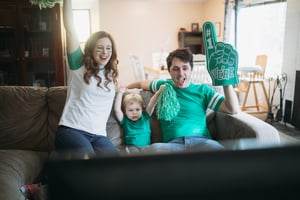 The countdown is on until NFL football is back! The 2022 NFL season officially kicks off on September 8. It is time to start bringing out your team gear and planning your watch parties. Make sure you have access to cheer on your favorite team with your TV package.
How to watch NFL games on TV
Each week during the season, there will be several games that will be carried on national television, with NBC, ESPN, Fox, CBS, and Amazon Prime each airing national broadcasts. Local networks like CBS and Fox will have the rest of the games. If you would like to watch every game, NFL Network is the only network to show the entire slate of 2022 NFL preseason games. Click here to see the full schedule.
GVTC offers two TV Packages. Our Top 100 Lineup gives you access to the NFL Network and other popular sports channels, including SEC Network, Longhorn Network, ESPN, Fox Sports, and many more.
Fantasy Football League
Fantasy football leagues draw millions of players each year from around the globe. The leagues offer crazy competition, the chance to manage your team, socialization with other sports fans, the thrill of winning, and a hobby that requires little investment but offers great rewards.
If you are ready to join a league this year or create one of your own, you must make sure you have a good Wifi connection. GVTC Premium Wifi allows your WiFi to handle up to 4x the number of devices as older routers and improves speeds by up to 25%. WiFi 6 also gives you more bandwidth by doubling the WiFi band channels that connect your router to your devices. That means you can watch the games with your friends and family while keeping track of your fantasy team with greater bandwidth and faster speeds.
Whether you are checking scores and stats or tuning in to watch your favorite team, GVTC has got you covered! Combine complete protection for your smart home, all the entertainment you love, and a fast and reliable internet connection you can count on. Bundle your way and save today with GVTC!
---