Maximizing Your Football Experience with GVTC Communications!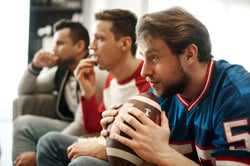 For die-hard football fans, nothing beats the thrill of watching the game. GVTC Communications understands this passion and offers an array of packages that cater to both college and NFL enthusiasts. By subscribing to these packages, you can ensure that you never miss a crucial play, touchdown, or highlight moment.
Comprehensive Coverage
GVTC Communications offers an extensive selection of channels dedicated to college and NFL football. With their packages, you gain access to popular networks like ESPN, SEC Network, FOX Sports, NFL Network, and more. This means you can catch every game, every matchup, and every highlight reel, ensuring that you're always in the loop.
High-Definition Clarity
One of the key factors that can make or break your football-watching experience is the quality of the broadcast. With GVTC's high-definition channels, you'll witness the game with unparalleled clarity. Every tackle, every pass, and every touchdown will be displayed in vivid detail, giving you a front-row seat to all the action.
Pause and Restart Games
GVTC's packages allow you to take control of your viewing experience. With the ability to pause or restart games, you have the freedom to step away for a moment without missing out on any of the action. This feature ensures that you never have to sacrifice convenience for your football passion. Please note that not all channels have the restart option available.
DVR Functionality
Life can get busy, and sometimes you might not be able to watch the game in real time. GVTC Communications understands this and provides DVR functionality with their packages. This allows you to record games and watch them at your convenience. Never worry about missing a crucial play again.
Exclusive Content and Analysis
In addition to live game coverage, GVTC's packages often include exclusive content and in-depth analysis. You'll gain access to pre-game shows, post-game commentary, player interviews, and expert analysis. This extra content provides deeper insights into the game, enhancing your overall football experience.
Multi-Device Streaming
With GVTC Communications, you're not confined to watching football on your television alone. GVTC TV allows you to watch games on your computer, tablet, or smartphone. This flexibility ensures that you can enjoy the game no matter where you are.
RedZone Channel (NFL Package)
For avid NFL fans, the RedZone channel is a game-changer. This channel provides live, in-game updates from all the Sunday afternoon games, ensuring that you never miss a scoring opportunity. It's a fantastic addition to your football package, giving you an immersive experience.
GVTC offers football packages that go above and beyond to provide fans with an exceptional viewing experience. From comprehensive coverage to high-definition clarity and exclusive content, our offerings are tailored to cater to every football enthusiast. Don't miss out on a single play—choose GVTC Communications for the ultimate football experience!
---