Avoid Holiday Home Disasters with Arlo from GVTC connectHome®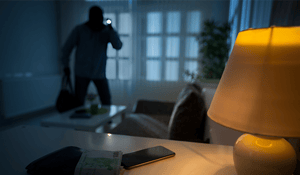 It's the most wonderful time of the year but can also be the most dangerous. The holidays are a crazy time for homeowners — entertaining family and friends, putting up the tree, hanging lights, and cooking for days. With all of the guests and extra work comes the added danger of accidents. Statistics show that over $17 million in holiday-related property damage happens every year. Below is a list of the most common holiday incidents and how our Arlo products can help protect you and your home.
Grease Fires
In an honorable attempt to create the tastiest holiday dessert or entree, many homeowners unknowingly start baking fires in their ovens or grease fires on their stovetops. With an Arlo Unlimited Plus plan, you can rapidly send fire, police, or medical responders with one touch to a camera's location without the need to physically talk to a dispatcher. Available 24/7, Arlo Emergency Response agents will share critical information entered in the Arlo secure App to better prepare Emergency Responders en route. Location information entered into the App by the homeowner can include an address, gate access code, medical conditions of family members, pet details, and more. Homeowners are kept up-to-date via text or can speak to an agent while help is on the way for added peace of mind.
Porch Pirates
Some criminals may target homes for their abundance of valuables during the holiday season, and homeowners can fall victim to porch pirates swiping their holiday deliveries right from their front door. With the Arlo Secure App, you can stream live video, play recorded clips, easily arm and disarm your system, and stay aware of what's happening when you are away from home. And, with Arlo Smart and Rich Notifications, you can take immediate action on alerts without unlocking your phone. Arlo products also include built-in smart sirens that allow you to trigger your siren remotely or automatically during an event.
Christmas Tree Fires
Each year, Christmas trees start around 160 house fires. According to the National Fire Protection Association, nearly one in five of these fires are caused by decorative lights, while candles cause 8% of Christmas tree fires. While indoor Christmas trees are the source of many holiday fires, some result from faulty outdoor decorations. With the Arlo Secure App, you can customize notifications to alert you of smoke/carbon monoxide in your home. So if you are sound asleep waiting for Santa or away from your home for the holidays, Arlo from GVTC connecthome® will give you peace of mind.
Don't let these accidents put a damper on your holiday plans, give your family the gift of safety this year with Arlo from GVTC connectHome®.
---