Beat Boredom this Summer with GVTC Services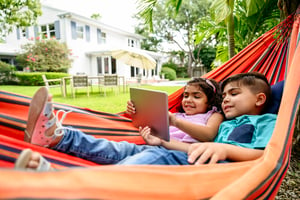 Kids are home for the entire summer — a situation that's equally as fun for kids as it is daunting for parents. With the long school summer holiday ahead, you may need a bit of help keeping the kids entertained, and GVTC is here to help. We have created a list of our services that can help prep your home for summer activities and keep you from hearing the dreaded words… "I'm bored!".
GVTC Fiber Internet
Even with the best internet, if you live with multiple people, between video games, online browsing, updating social media, and everyone streaming their favorite shows, your internet can get bogged down. With speeds anywhere from 4 to 20 times faster than the fastest cable connection, GVTC's robust Fiber-to-the-Home (FTTH) is the solution to all your loading problems.
If you plan on having a house full of kids this summer, you need our WiFi 6. GVTC WiFi handles up to 4x the number of devices as older routers. WiFi 6 also gives you more bandwidth by doubling the WiFi band channels that connect your router to your devices and improves speeds by up to 25%. No buffering screens or slow loading speeds.
To keep your kid's screen time limited, you can also get GVTC's ExperienceIQ: Enhanced Parental Control. For just $3.95 a month, you can set profiles, and content filters, turn off internet access, and view network usage so your kids can only access sites, apps, and devices you deem appropriate. ExperienceIQ is only available to Premium WiFi users. If you haven't already, click here for more information and to upgrade your service today!
GVTC DVR
Does your child have a favorite show or movie? With GVTC DVR, you never have to worry about missing it ever again. Simply program your DVR to record it. With a DVR, you can also simply skip past all those annoying advertisements and pause when you need to take a bathroom break or snack session. With up to 60 hours of HD programming available, you'll have every episode and movie that your child loves ready to go at the click of your remote!
GVTC Security
This service might not keep your kids from being bored, but it will keep your mind at ease while your children are home alone. With Arlo from GVTC connectHome® smart security, you can get smarter, interactive alerts that identify people, vehicles, animals, and packages for you so that you can act quicker from anywhere.  You can also reduce unwanted notifications by highlighting areas of your property where you want the motion to be detected.
Make sure you have the fastest, most reliable services this summer with GVTC. Click here to check out our products!
---