Be the Hostess with Mostest with GVTC Premium WiFi!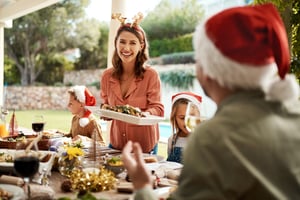 The holidays are here, and it is time for all the Christmas festivities! Whether you are hosting family, having a party, or last-minute shopping for gifts, GVTC Premium WiFi has you covered. GVTC now offers 500 Mbps as the minimum speed for new residential fiber service, which means the fastest, most reliable speeds during the moments that matter most. Keep reading to find out how our Premium WiFi can help you this holiday season.
Fiber as Fast as Santa's Sleigh
With speeds anywhere from 4 to 20 times faster than the fastest cable connection, GVTC's robust Fiber-to-the-Home (FTTH) is the solution to all your loading problems. If you plan on having a house full of guests, you need our WiFi 6. GVTC WiFi handles up to 4x the number of devices as older routers. WiFi 6 also gives you more bandwidth by doubling the WiFi band channels that connect your router to your devices and improves speeds by up to 25%. No buffering screens or slow loading speeds when online shopping for presents!
Keep your Kids off the Naughty List with GVTC's ExperienceIQ
Christmas is right around the corner, and so is Christmas break for the kiddos. To keep your kids engaged in family fun and off their smartphones, you can get GVTC's ExperienceIQ: Enhanced Parental Control. For just $3.95 a month, you can set profiles, content filters, turn off internet access, and view network usage so your kids can only access sites, apps, and devices you deem appropriate. ExperienceIQ is only available to Premium WiFi users. If you haven't already, click here for more information and to upgrade your service today!
It's a Wonderful Life with GVTC Wifi
Planning a holly jolly holiday party? With the GVTC WiFi App, you can set up a network specifically for your guests and send it to them before they even arrive. With a simple click of a button, you can create an event, password, and start to end time that you would like to share your network on. Once you accept and save the guest network settings, a contact list will automatically pop up so you can email a link directly to your guests for easy WiFi access when they arrive. Navigate back to the main screen, and you have the option to edit, delete, or send the network information to additional guests.
Give yourself the gift of GVTC Premium WiFi this Christmas and have the most memorable and pleasant holiday experience!
---