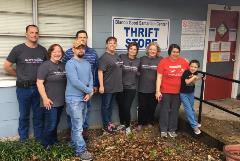 When the Blanco Good Samaritan Center needs to get ready for their spring and summer season they call The GVTC Foundation for help. For the third year in a row, GVTC employee volunteers spent some of their Saturday working at the center.
Our employees were assigned to remove winter items that will be donated elsewhere. When that was done the group gave the store a good spring cleaning. The Good Samaritan Center is now ready to restock with new merchandise for warmer weather. When the work was done, the Samaritan Center showed their appreciation by feeding our volunteers lunch.
Money raised from the thrift store operation helps the nonprofit provide food and limited financial assistance to families in need throughout Blanco County. The Blanco Good Samaritan Center is always looking for volunteer assistance or with food and monetary donations. Learn more at www.blancogoodsam.org.