Thanksgiving Giveback Event | TX Community Involvement | GVTC
Another summer has come and gone. And what are we most thankful for? Saying goodbye to 100-degree weather and summer diets and hello to all things fall!
It's no wonder fall is a lot of people's favorite season when we have so many things to look forward to. Cue in perfect weather for cozy sweaters, warm drinks, bonding with loved ones over Aunt Judy's famous green bean casserole and mom's killer stuffing! While some of us are excited to put salads and swimsuits behind us to make room for pie, some families in our Texas Hill Country community are impacted by the ever-rising cost of food this Thanksgiving season. Wouldn't it be nice if instead of desperately waiting for pumpkin spice lattes, we follow a more meaningful trend this fall like giving back? Count us in!
Turkey with a Side of Helping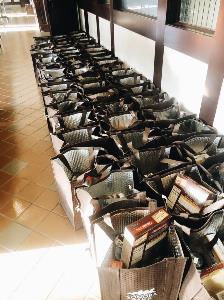 Thanksgiving is a time for fun, good food, laughs and giving thanks. It's a time to gather with family, friends and loved ones to express how grateful we are for the good things in our lives. It's also a time that most of us really want to give back. A turkey dinner tastes a lot better after helping people. At The GVTC Foundation, GVTC's employee-driven philanthropic arm, we believe no family should worry about where their next meal is coming from, especially not on Thanksgiving. That's why we host our annual Thanksgiving Giveback project where we provide Thanksgiving meals including a full frozen turkey and all the traditional trimmings by teaming up with local food pantries to purchase meals, and collect food donations which are packaged and personally delivered by our employees to struggling homes throughout Boerne, Canyon Lake, Bulverde, Spring Branch, Blanco, and Gonzales.
Altruism never tasted so good!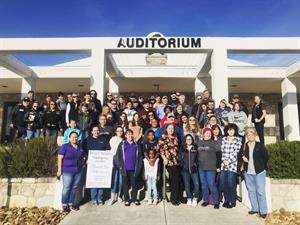 Seeing the community team up to help eliminate hunger every holiday by serving nearly 900 meals in the past 6 years, getting to meet with families personally to hear their stories, and show them we care about them is what we're most grateful for each year. We're not stopping there, though! In honor of this beautiful tradition, we want to help even more people than in any previous year. We can't do it alone, so we truly depend on the support of our community to ensure as many families as possible don't go hungry this Thanksgiving season.
GVTC'S Thanksgiving Giveback Details:
When: Collecting donations through November 18th.
How: Youth Volunteers: Community youth groups looking to earn community service hours are welcome to participate in organizing a food drive, to benefit this event. If you are in an organization looking to partner with us, please email us at info@gvtcfoundation.com.
Food Needed:
Instant Mashed Potatoes
Green Beans (canned)
Corn (canned)
Gravy (canned or packet)
Stuffing (instant)
Sweet Potatoes/Yams (canned)
Aluminum Turkey Roasters
Turkey Oven Bags
Frozen Turkey (12-15 lbs, only accept week of delivery)
Loaf of bread (fresh, only accept week on delivery)
Dessert (frozen, or fresh ones only accepted week of delivery)
Donate $25.00* to purchase a full meal or donate food from the list now through November 18th.
Food & monetary donations can be made at any GVTC Store or by calling The GVTC Foundation at 830-885-8340.
GVTC Store Locations
Smithson Valley Store
36101 FM 3159
New Braunfels, TX 78132
Boerne Store
1221 South Main Street
Boerne, TX 78006