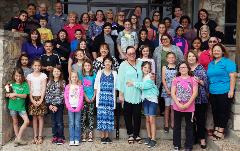 After a school year of letter writing between mostly third graders and GVTC employees the day arrived for pen pals to meet each other in person.
A bus load of students Rebecca Creek Elementary and Startzville Elementary arrived at GVTC headquarters for a face-to-face chat over lunch with their adult mentor. Over pizza and a juice pack, they got to know each other better talking about stuff that matters to nine-year old's. After lunch, the students and their GVTC pen pal toured company headquarters and paused for a photo.
Thanks to our 29 employees who participated in the program. Their time and attention made a difference in the lives of these young students.