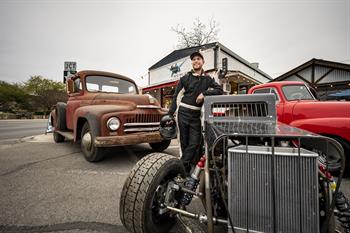 "Dwarf cars" may sound like a car that Snow White's friends might drive, but they're really miniature versions of full-sized automobiles that are surprisingly roomy inside and can pack a punch on the track! They may be only waist-high, but they hold their own on both race tracks and traffic roads — just ask Ty Paxson.
This Boerne local has been bringing a whole new meaning to putting the pedal to the medal. For the past 4 years, he has raced all over the state, taking the industry by storm. Last year, he won the Points Championship at the South West Speedway and isn'''t stopping there. 0000163414-001-4
Perks of living in a small town is having a strong support system. On a Friday night, you can catch Ty and his friends on the "Hauptstrasse" (Main Street) at Soda Pops, grabbing some dinner and talking about their cars.