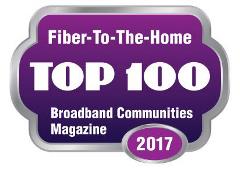 Make it 10 years in a row for GVTC being selected a Top 100 FTTH Company by Broadband Communities Magazine. The announcement was made in the most recent issue of the magazine. Once again, GVTC is the only telephone cooperative chosen.
To be selected, BBC Magazine editors looked for: Organizations that advance the cause of fiber-based broadband. Deploy networks that are large or ambitious, have innovative business plans or are intended to transform local economies or improve communities' quality of life. Supply key hardware, software or services to deployers. Introduce innovative technologies with game-changing potential, even if they have not yet been commercially deployed. Provide key conditions for fiber builds, such as early-stage support or demand aggregation.
Fortune 100 companies that earned the Top FTTH Award, along with GVTC, include AT&T, Spectrum and Google Fiber.