Acing the Golf Tournament | TX Community Involvement | GVTC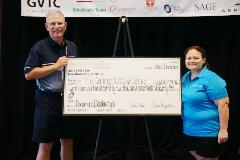 Since its inception in 2006, The GVTC Foundation has managed to raise and release over $2.6 million in donations with a mission to profoundly enhance the quality of life in the communities it serves, through charitable contributions and volunteer service. On May 1, two hundred-eight golfers and thirty-six sponsors came together at the TPC San Antonio Golf Course for this worthy cause.
This year, we are proud to announce that we raised $200,400, topping last year's Golf Tournament that brought in $195,000 for The GVTC Foundation!
The GVTC Charitable Golf Classic is the primary fundraiser for The GVTC Foundation, which contributes thousands of dollars annually to local nonprofits that support health & human services, youth programs, volunteer emergency services, education, culture and select public charities.
For information on how you, too, can get involved or donate, please visit https://gvtc.com/gvtc-foundation. There is always room to grow, and your contributions make all the difference in our mission to improve our communities.