2023 GVTC Charitable Golf Classic Raised over $242,000 for Local Non-Profits!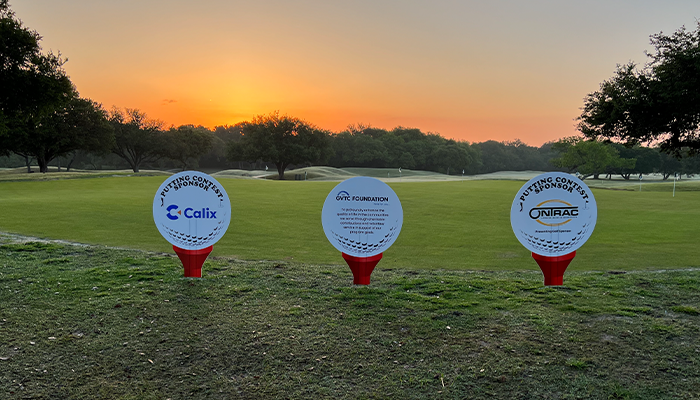 GVTC is proud to announce the success of its 19th Annual Charitable Golf Classic held on April 11th at the Hyatt Regency Hill Country Resort And Spa. The tournament raised an impressive $242,526 to benefit The GVTC Foundation. This event is currently the only fundraiser that directly benefits the foundation.
The funds raised are distributed to local nonprofits across GVTC's entire service area through grants and sponsorships, along with funding the foundation's scholarship program. GVTC and The GVC Foundation firmly believe education is the key to building stronger and more empowered communities. The foundation and GVTC Communications are set to give over $235,000 to local high school students in 2023.
The GVTC Foundation and GVTC express their gratitude to OnTrac Inc., the 2023 Presenting Sponsor, and all sponsors who participated. The Annual GVTC Charitable Golf Classic has raised over $2.1 million since its inception. Thanks to the continued support of vendors and business partners, the foundation can make a significant impact in the community.
Ritchie T. Sorrells, CEO, and President of GVTC Communications, expressed his appreciation for our vendors, partners, and local community organizations. He said, "We are continuously amazed by the growth and success of The Annual GVTC Charitable Golf Classic. Our partners share the same passion for helping our community, and their generosity allows us to give more back to our neighbors in need."
Sonia Aguillon, President of The GVTC Foundation, added that the foundation is overwhelmed with gratitude. She said, "We are very appreciative of the sponsors and golfers who support this event. They believe in the work we are doing and enjoy being part of the change. Without the support, we would not be able to assist as many of our local partners."
The GVTC Foundation's mission is to enhance the quality of life in the communities it serves by supporting Health and Human Services, Education, Youth Programs and Services, Cultural Programs, and Volunteer Emergency Services. The foundation has distributed over $5.8 million in support of area non-profits and scholarships within its service area since its inception in 2006.
For those who are interested in supporting the foundation's important work, donations can be made online at www.gvtcfoundation.com at any time.
---