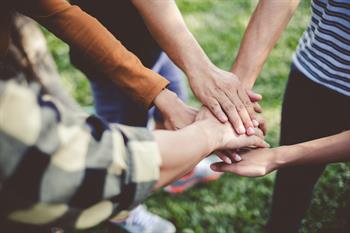 We see acts of goodwill everywhere we go, however small or discrete they may be. Have you ever noticed the $1, $3, and $5 coupon donations displayed at the HEB checkout counters? Perhaps a hanging street banner for a "Back the Badge 5K Race" caught your eye one day as you drove into work. Whatever your contact may be with philanthropic efforts like these, there are many opportunities to make a difference in your community that you may not be aware of, and even more opportunities you can capitalize on. So, we're here to shine a light on a few notable ones in our area.
It's important to know what's out there.
There are hundreds of local nonprofits that work to improve human and health issues in our Central Texas area alone, and one leader fighting this good fight is The GVTC Foundation.
Founded in 2006 by GVTC's CEO and President, Ritchie Sorrells, The GVTC Foundation supports 100+ nonprofits each year through grants, sponsorships, scholarships and volunteer work in the hopes of improving six key areas of need in our community: health & human services, youth programs and services, volunteer emergency services, education, culture, and public charities.
To fund these efforts, The GVTC Foundation holds just one fundraiser each year, the Annual GVTC Charitable Golf Classic. To date, the Golf Classic has raised over $1.3 million, all of which is distributed back to the local community. Combine that with the generous donations made by donors throughout the year, the Round Up for Change program that allows customers to round their bill to the nearest dollar as a donation, and the payroll deduction contributions made by 93% of GVTC employees, and you have nearly $3.3 million that has been donated to GVTC's service area since 2006.
How does that affect you?
If you are a part of a nonprofit organization within GVTC's service area that aligns with one of the six key areas of need The Foundation focuses on, we encourage you to apply for a grant or sponsorship. The GVTC Foundation Board of Directors, comprised of GVTC employees, meets monthly to approve grants and sponsorships applications.
If you are a High School Senior or a parent of one, we encourage you to explore the four scholarships opportunities available at the beginning of each year. The Board meets annually to select four scholarship recipients.
Additional opportunities to get involved or benefit from The Foundation's efforts
The GVTC Foundation doesn't stop there. Throughout the year, we partner with nonprofits we support on outreach projects that stimulate community involvement and growth. Two outreach efforts to look out for this year are Pack the Bus and the Thanksgiving Giveback Project.
Pack the Bus, an annual school supply drive by Communities in Schools (CIS), helps raise funds and supplies for kids in need throughout New Braunfels, Bulverde, and Schertz. Since education is a key area of need in our community, The GVTC Foundation helps CIS annually by hosting a Pack the Bus drive at GVTC's Smithson Valley location. Whether donating or receiving support from this drive, we're dedicated to ensuring every child gets the education and support they need to succeed.
The Thanksgiving Giveback Project, an annual project run by The GVTC Foundation, supplies families in need with Thanksgiving meals by partnering with local food pantries, schools, and businesses to raise funds and food. In the six years since it launched, Thanksgiving Giveback has provided 899 donated meals to local families. This is an amazing way to introduce children to philanthropic work, successfully complete community service hours or become more involved in the community.
Don't know where to start?
Visit The GVTC Foundation website at https://gvtc.com/gvtc-foundation to apply for a grant, scholarship, or sponsorship today!
You can also follow along on Facebook, LinkedIn, Instagram, or Twitter for the latest updates on current and upcoming projects.
Join the goodwill and help fight the good fight. We're here to support you because when the community benefits, we all prosper.