Pencils ✓
Backpacks ✓
Last-minute summer fun ✓
Back to school, a truly bittersweet time for both parents and kids alike. On one hand, we're sad to part with the lighthearted fun of summer and the extra time with the kiddos, but we're also relieved to welcome back our daily routines. – No shame in admitting that!
As summer comes to an end, our children may start feeling a bit sad about going back to school, secretly hoping for some miracle that extends the break just a bit longer. To combat our guilt for eagerly waiting for school to start and cure the little ones' summertime sadness, here's a list of killer last-minute family activities to ensure everyone's summer ends with a bang!
Parent of the year, anyone?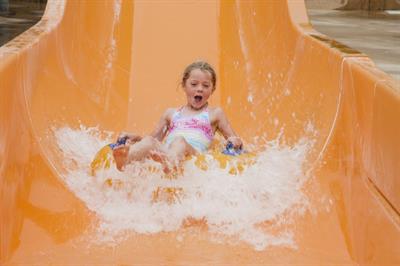 Big Little Trips with Fido
Sometimes the best trips are the ones you don't have to pack for. With only a short car ride and snacks required, these local activities are chock full of family fun that even our dogs can partake. Because let's be honest… unlike us, Fido is not looking forward to the quiet and lone moments that come when summer ends.
Picnic Time
Get the sliced watermelon and sandwiches ready! Everybody loves a good picnic. Sitting under a tree with a cold lemonade in hand, playing frisbee with the kids and dog, and enjoying our favorite hot weather snacks can bring even the most grown-up of us back to our childhood. Whether there's a book you've been dying to finish or just want to enjoy the outdoors with your kids, it's a perfect way to commemorate the end of summer with all of the family. No screen time and counts as Fido's exercise of the day? Sign us up!
Extra Tip: For even more fun, head to the local farmers market with the family beforehand to pick the freshest ready-to-eat treats for your family picnic.
Camping
Bedtime stories under the stars and sharing a tent have a way of making us feel extra bonded not just with nature but with each other. Whether you prefer to camp in your own backyard or drive to a nearby camping site to explore nature and enjoy a night with the family free of internet-connected devices, it'll surely create memories that will last them all the way through the next break. Just make sure to wait until the sun goes down so that it's not scorching hot outside and bring your furry friend along for extra protection and full family bonding.
Lake Day Every Day
Pools are great and all, but we all know Lake Days are far better to spend a hot summer day. Beach Days are cool too, but given the long drive to a beach, lakes are much more accessible and require less preparation. Teach your Fido how to swim or rent a small boat to go out with the whole family for a day full of water fun. Extra points if you get everyone to jump in the water and forget about battery-powered devices or responsibilities. Also, did we mention floating burns enough calories per minute to be considered a workout?
Humans Only – Sorry, Fido!
Not all fun summer activities require lots of outdoors time. On those days where it's just too hot outside to function, there's plenty of fun things to do with the family that includes A.C, at least partially. Unfortunately, most of these are off-limits to pets so Fido may just have to hold down the fort for a few hours. For those of you who get worried about the shenanigans your pets get into when left unattended, you can always use your connectHome® camera footage to check on them throughout the day and make sure no shoes are taken, prisoner.
A Day at the Museum
Just because it is summer doesn't mean learning is off-limits. Learning about previous cultures, art, or science on a fun trip to the city Museums can be a blast, not to mention a great and relatively inexpensive activity the whole family can enjoy. At this point in the summer break, the kids have gotten enough fill of TV and video games and could benefit greatly from a more well-rounded activity.
The Zoo
"I hate the Zoo", said no kid ever! Seeing all kinds of animals in person that they would normally only see on TV can be a surreal experience that will leave them thinking about what an awesome summer they had this year. Think about it, we all have that childhood memory of witnessing the majestic presence of our favorite wild animal. And no matter how old you get, you always get excited when you see a panda, a leopard, or any animal rarer than a normal house pet. Summer is the perfect time to relive those memories and create new ones as a family. Just don't forget a hand-held fan in case it's one of those 100-degree Texas summer days!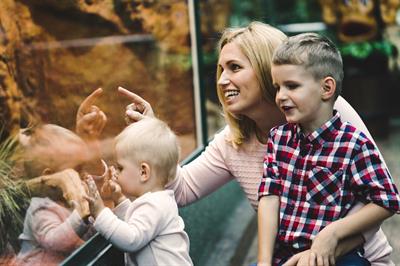 Extra Tip: If upon checking on your pet from your connectHome® camera footage, they look depressed from being left out of the chance to bark at much larger, caged animals, get them a stuffed animal from the gift shop.
Slip n' Slide
Schlitterbahn, Six Flags, Splashtown are all within a reasonably short drive from home, yet they feel like a mini-vacation, where we can escape from reality for just one day. Because let's be real, with all the stress from back-to-school prep, everyone could benefit from the adrenaline and fun-packed day. Slip n' Slide your way out of stress and watch the kids laugh like never before as they go down their favorite ride at least a hundred times or so.
Whether you bond over these last few weeks of summer break at the lake or teach your kids to throw the Frisbee with your dog at the park during a local picnic, these activities are bound to supply enough fun memories to last your kids until the next holiday! With summer break disappearing before our eyes, it's the perfect time to take full advantage of the sunny days and create the summer-break memories your kids will cherish for a lifetime!
No House-sitter Needed - Just GVTC connectHome®
Pick one of or all the activities listed. The decision's all yours. But while you're away from the house for an extended period of time, don't forget to make the key decision to protect your home (pun intended).
The best house-sitter is no sitter at all! Save those favors your neighbors owe you for when you're stuck late at work or need someone to watch Fido, and subscribe to GVTC connectHome® instead. With smart home automation, video surveillance, and mobile access, you're investing in peace of mind.
Starting packages begin at $34.95/mo. and include 3 wireless sensors, 1 motion detector, 1 lyric touch-screen controller, security monitoring through the Honeywell Total Connect 2.0 App, and your choice of a SkyBell Doorbell or outdoor video camera.
The best part about it all? You can start with the basics, and add on to your plan as your needs evolve. GVTC wants to make sure you're maximizing not just your summertime, but your entire home experience, all year 'round.