Help Support your Community through the 2021 Thanksgiving Giveback Project! | Community Involvement | GVTC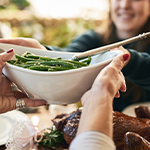 With this year flying by, we're only a few months away from The GVTC Foundation's biggest event: the Thanksgiving Giveback Project! The GVTC Foundation is looking for volunteers to help with this years' event. The goal is to donate our largest number of Thanksgiving meals to families in need in our service area, and we need your participation to make it a reality!
This project is not possible without the i-n-c-r-e-d-i-b-l-e support we receive from GVTC employee volunteers, local groups, and donors alike. First, The GVTC Foundation partners with local food pantries that supply the family names of those we deliver to. Then, we work with local organizations including school groups, churches, and businesses from September to November to collect food items and raise monetary donations needed for each Thanksgiving meal. And last, our GVTC employee volunteers and their families personally pack and deliver all meals to the families that were provided.
Since its inception, the Thanksgiving Giveback Project has helped benefit 1,213 families in total, and it's all thanks to our GVTC employees, volunteers, and the generous, caring partners that make up these great local organizations. If you wish to learn more about The GVTC Foundation and how you can get involved in the 2021 Thanksgiving Giveback, email info@thegvtcfoundation.com or visit thegvtcfoundation.com.
---