Improve WiFi Signals With Premium WiFi | Internet Provider | GVTC
Get the best WiFi 6 router and in home experience you deserve
A whole-home WiFi system is an easy solution to improve internet speeds and increase WiFi coverage throughout your house. Everything is bigger in Texas, including our homes! More space can mean more internet issues. GVTC saw a need for higher speeds, more device connectivity, and improved WiFi signals upstairs, and knew exactly what to do. Say goodbye to dead spots and buffer screens, and say hello to GVTC Premium WiFi!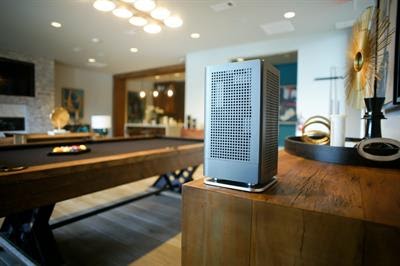 Introducing the GVTC Premium WiFi router powered by WiFi 6, the best WiFi 6 router available to boost internet in 2019. If you want the best home WiFi experience, you need more simplicity and control at your fingertips. With GVTC Premium WiFi, you get just that!
GVTC Premium WiFi is the best WiFi booster you can get to blanket your entire home with a strong internet connection. Our mesh capable router is a next-generation smart home system. Leveraging the latest advancements in WiFi technology, it combines blazing-fast speeds with full coverage to give you unrivaled internet performance. Whether you're streaming the latest cult favorite on Netflix, uploading a large presentation for work, or gaming online with friends, GVTC Premium WiFi has your home covered.
Unlike traditional WiFi routers, this Premium WiFi 6 router is the best central hub that powers your entire Smart Home. That said, this router has the ability to support mesh access points that are placed throughout your home to help extend WiFi coverage, which is especially helpful with larger houses.
How does GVTC Premium WiFi improve internet speed?
Greater coverage
Wherever you go, your WiFi 6 mesh router will send internet connection that follows. Let's say you spend most of your time surfing the web downstairs but also stream movies upstairs in your bedroom. With GVTC Premium WiFi, you can achieve strong internet connections in both locations, regardless of where you've placed the router. No matter where you go, the same great WiFi quality follows everywhere you roam in your home.
The best part? With GVTC Premium WiFi, you can go even further. Our new upgrade is Mesh Capable, which means you can add Mesh extenders throughout your spacious home to further your connection when needed!
Fewer interferences with a WiFi 6 mesh router
With options to extend your coverage even further, our Mesh Access Points (MAPs) are faster and more reliable than WiFi extenders. With MAPs, you don't have to worry about radio interference or structural obstacles interrupting your service. If you're experiencing slow WiFi in your kitchen because of your microwave and a nearby mirror, place a mesh access point in the kitchen. This way, the signal no longer has to travel through these objects to reach your devices, and you can keep the Feng Shui of your house how it is.
Easy network management
Most whole-home WiFi systems come with digital apps to help you easily manage the devices on your network. With the intuitive GVTC WiFi app, you can easily manage your WiFi features from anywhere!
App features include:
Monitoring WiFi signal strength
Viewing connected device
Troubleshooting your modem
Set up guest networks
Easily manage your network and passwords
Set up guest networks
Customize passwords
Adjusting security settings
Parental controls
In short, you can manage your entire home's access to the internet with the swipe of a finger. Simply download the GVTC WiFi app, available in the Apple App Store or Google Play.
Higher throughput for your devices
GVTC Premium WiFi is powered by the best WiFi 6 router in 2019. It's the most advanced WiFi standard yet. It's faster than previous modes and is optimized for performance in today's busy smart home environments. Basically, this technology enables more devices to simultaneously operate on the same WiFi channel, which improves the efficiency, latency times, and data throughput of your wireless network. There's nothing better than an improved WiFi signal upstairs!
Reliability
In addition to location-based connections, this new WiFi experience can help guarantee that if one mesh access point goes down, your network will continue running. As long as your router is still standing, you shouldn't experience any internet connection issues.
All in all, GVTC Premium WiFi is an easy way to increase your WiFi range throughout your entire home, giving you the WiFi experience you deserve.
Get faster processing speeds, the ability to connect more devices, greater WiFi coverage, and increased signal strength with GVTC Premium WiFi! Shop Fiber Internet packages starting at $59.95/mo for 250 Mbps upload and download speeds. This perfect for a household with multiple devices, online gaming, and streaming video.