GVTC Smart Security- Protection for Your Home and Heart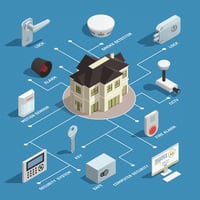 As a homeowner, nothing matters more than protecting your home and the people you love inside of it. From fires to floods, carbon monoxide to smoke — even potential personal hazards — GVTC Smart Security sensors can alert everyone, no matter where they are in the home, to get to safety. If danger is detected or an emergency button is pressed, an alert is sent immediately to the monitoring station to get the urgent help you need.

Multi-Threat Detection - A two-way wireless smoke and carbon monoxide detector with four sensing elements that improve detection while reducing false alarms. This smart home security system device is equipped with a battery pull-tab and auto-enrollment for easy installation.

Heat Sensor - Offers expanded fire detection and installation flexibility. It is ideal for hard-to-wire locations and applications that require more than smoke detection.

Two-Way Wireless Key - Experience reliability, convenience, and peace of mind with this device. Gain control of smart home security devices that offer motion, smoke, and glass break detectors and door and window sensors with this two-way wireless key fob, with two-year battery life (typical use) and a transmission range of up to 200 feet.

Personal Medical Transmitter - This water-resistant medical alert button includes two-way wireless encrypted communications for compatibility with our security products. It comes with a battery, belt clip, lanyard, and wristband.

Personal Panic Transmitter- This device allows you to reduce stress and the risk of injury with the touch of a button. It sends automatic alerts to first responders and can be worn on a belt clip, lanyard, and/or wristband.

Indoor Siren - enhances deterrence and delivers a 107 DB blast in the event of an intrusion. Totally wireless, the siren can be mounted anywhere. Multiple sirens can be placed on one system.

GVTC connectHome® brings more than complete smart security. It gives you a sense of comfort, safety, and peace of mind—all priceless and all yours. If you are interested in adding one of our life safety sensors, please give us a call.
---