5 Reasons Why You Should Have a Professional Technician Install Your Home Security System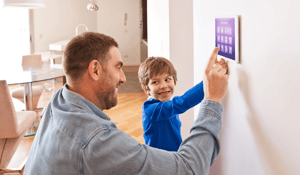 Deciding to invest in you and your family's safety is one of the best choices you will ever make. Getting your home security system installed by a professional is another great choice. With GVTC connectHome® smart security, you can do both! GVTC offers professionally monitored, and self-monitoring smart security options with bundles you can choose from to best fit your needs. All of our Arlo from GVTC connectHome® smart security self-monitoring bundles come with the option for professional installation from one of our amazing technicians.
If you are considering investing in a home security system and still aren't sure that a professional installation is right for you, here are five reasons why you should have an experienced technician install your home security system.
Peace of mind: Having GVTC install your home security system lets you rest easy knowing everything is installed correctly and all the equipment is placed where it needs to be. What good are sensors and cameras if they aren't put in the right spot? No matter what sort of system you choose, you want to ensure you get the most out of your investment.

Expert Advice: Rather than spending hours on Google and scrolling forums, you will have access to the professionals when you decide to have a GVTC technician install your security. On top of all that, our technicians will be able to answer all your questions and concerns and explain how your new equipment works once everything is installed.

Troubleshooting: Sometimes things don't go as planned, and sometimes the best place to set up equipment won't always work. A GVTC technician can troubleshoot these problems and find the best solution. For example, if you are setting up any outdoor equipment like surveillance cameras, locations that may provide the best view of your home may not have any access to power. A GVTC technician will be able to drill holes and run power where it needs to be.

Warranty: All GVTC connectHome® smart security systems come with a warranty that will cover repairs and most replacement parts should something go wrong with your system.

Time: Installing a security system, even for the most tech-savvy person, can take time. By having a professional GVTC technician install your system, you don't have to lift a finger. The technician will come to your home, do all the work, and, most importantly, test the system to ensure everything is working perfectly before leaving.
Ready to protect your home? Why not check out the GVTC Smart Security? Click here to learn more!
---