Make your Home Safer & Smarter in 2022!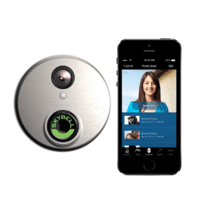 A new year means new resolutions! Three hundred sixty-five days to make the most essential things in your life a priority. Keeping your home and family safe should be at the top of your list. Installing a smart security system can help ensure your home, loved ones, and pets remain safe while making your day-to-day life easier.
With a smart security system, you can protect your home while you're at work, running weekend errands, or on a vacation getaway. Smart security systems can promptly notify you of activities as they happen on your property. And can even deter burglars from approaching your home.
Plus, wireless video cameras can show you what's happening when you're not at home. Smart cameras would even allow you to set custom detection parameters. This custom setting lets you monitor and record movement in designated areas of your home.
If intruders access your property, you'll be notified and be able to check on what's happening in real-time. Smart security systems, like GVTC Home Security Monitoring, even have integrated smoke and carbon monoxide detectors that'll alert you of any dangers.
Geofencing technology included with GVTC connectHome®, your house knows when you're almost home and gets your climate control and lighting ready for you. It may also arm or disarm your home thanks to technology that detects when you're arriving at your house.
When you create a geofence around your home, you trigger the Home/Away mode depending on if you are inside or outside the specified parameters.
Also, if you set the Away mode to trigger certain scenes, they'll all happen the instant you leave home. This is especially handy when you're in a hurry and don't have time to lock the door or close the garage. You can set smart scenes to trigger when Away.
You'd be amazed at how much you can automate these days with the click of a button. One capability GVTC connectHome® offers to do just that is smart scenes.
You can set smart scenes to help with daily activities. These instructions trigger specific tasks based on parameters like time of day, location, and device type. For example, you can trigger the garage door to open as soon as you're a certain distance from home, or you can schedule your lights to turn off at a specified bedtime.
Setting up smart scenes allows you to put all those mundane tasks on autopilot, so you have more time for what matters most to you.
You can enjoy your life and keep your family safe simultaneously; these desires are not mutually exclusive. With GVTC connectHome®, the possibilities are endless for how you choose to customize and automate simple tasks to make room for more important ones. Make GVTC smart security a part of your New Year's resolution!
---