Moving to a new home is everything but easy. The thought of sorting and putting everything into portable boxes is enough to scare you back to bed.
But you're not alone.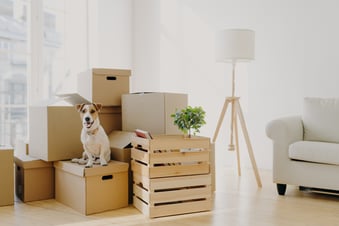 Some three million Americans make an interstate move each year.
Use these tips to make yours easier:
List every important article you need to move to your new place.
Separate all the items that you need to use before the day of the move.
Avoid unpacking any box before the move, and
Know where to place each item in your new crib
So, let's start with the essentials.
Stage 1: Ready the Essentials
Before you move, plan, prep, and sort your things. I'd recommend giving yourself about eight weeks prior to move day to do this.
If your parking date is sooner than that, it's okay. You can adjust the timeline to reduce the days you spend on each step.
To begin, ready the essentials.
Get quotes from the moving company.
Call the internet company to schedule the uninstalling of your cables, cancel your plans, and arrange for re-installation in your new place.
Call your plumber, carpenter, electrician, and any other person that can make your move seamless.
Albeit, unforeseen factors may influence your packing duration.
The movers, for whatever reason, may not make it on the due date. The weather can get in the way. Your neighbors might arrange a surprise party.
Regardless of what happens, you'll be ready with these tips.
Here's what to do at this stage.
Sort out the essentials
Start early. Like we said earlier, now is the best time to put that call through.
Will you need help from family or friends? Call them and plan before the set day.
Look around your home — empty rooms, bedrooms, garage, and attic. This is more of mental planning than actual packing. Take note of everything you have in your house now, and do mockup imagery to see how it'll all fit.
Will you need that old cabinet? What about the sofa that's been around for so long, it's now like a family heirloom?
Do you need to hire anyone apart from movers? House cleaners or carpenters, maybe?
If you aren't using a moving company, then buy packing boxes and supplies.
Do a checklist
When done with the mental planning, put everything you noted down on paper.
Contact a moving company.
Contact your utility company, plumbers, gas, and other fixed services companies.
Hire a technician to uninstall your TV and Internet lines and re-install it in your new home
Make plans for other workers.
Buy packing materials and supplies.
Discard the things you don't need anymore
Sort out items or furniture you won't be needing.
Donate the things you don't need to charity
Tag your boxes
Write a DO NOT pack list.
Tackle everything you may need and customize this checklist according to your needs.
Stage 2: Create a Designated Packing Area in Each Room
Think about it. If you have to walk up and down the stairs and all over the house to access packed boxes, you'll burn out.
That's why you need a packing zone. Get a space in the room you're packing at the moment and make sure it has the packing supplies you need.
Your packing zone should change as you work through each room. This will ensure you don't rummage around your house for things you need on-the-go.
Stage 3: Pack the Stuff You Don't Use Often
If you don't need it, then why pack it? However, if you don't have use for it often, then put it in the tagged box for such items.
An excellent place to start is with tools and equipment stored in the garage or attic. Extra supplies stored in the sheds, garage, or closets can go into the "not needed for now" boxes too.
You can also pack out of season items like winter boots or bulky sweaters (if you're moving in the summer).
Don't forget collections or display items you don't use often. Donate or dispose of them.
Remember that "do not" pack list? Great — stick to it. You'll be saving yourself a lot of stress and moving fees while you're at it.
Stage 4: Pack the Stuff You Use Often
Now is the time to pack the things you use often but may not need immediately in your new place.
This can include anything like
Books
Gadgets
Hobby tools or equipment
Music CDs, DVDs, or cassettes (if you still got them)
You can pack specialized kitchen equipment you don't use regularly.
If you have lampshades or lamps, pack them separately. You should wrap lampshades upright in their box. If you have more than one, allow them to nest inside each other.
Don't box up things you may need during the packing, like your ladder or gloves. Also, don't pack up things you need before moving, like a few coffee mugs, toiletries, and the like.
Resist the Urge to Reminisce
Every old photo, antique, or toy has a story. So, it's easy to travel down memory lane — don't.
Time is crucial when packing.
Reminiscing over old items will only eat that time and make you unproductive. And by the time that day ends, you may have lots of things you left unpacked.
Stage 5: Last Week to Move Day
Now the packing gets serious.
Start with fragile items, kitchen, bedrooms, and bathrooms.
Check easily-overlooked areas like the top of the shelf, the closets, and hidden cabinets you often do not use. Go through cabinets, drawers, and in between shelves. Be sure not to forget anything.
If you do this right, your rooms should be almost empty by this stage.
If you washed recently, pack up the clothes and clear up the laundry room.
Pack up items you won't be needing till you get to your new home.
Do not pack away necessary documents relating to the move itself.
Leave out things you'll need during the move day, especially if you're moving to a new city or country. Things like toiletries, cleaning materials, clothing, and even snacks should be top of your list.
Final Stage — Move Day
Congratulations on making it to this stage!
You're feeling excited, overwhelmed, and exhausted. Relax, it's almost over.
Now it's time to pack your bed, beddings, toiletries, and medications. Use a mattress wrap to secure your mattress and keep it neat. Throw your toiletries and medicines into the essentials bag.
Have the following things handy
Drinks
Snacks
Paper goods
Some cleaning supplies.
And if you have pets, have their food ready.
One More Tip for the Road
You don't have to get to your new place before making plans for your internet or TV.
If you're moving to the Boerne, New Braunfels, or the San Antonio area in Texas, for example, you might consider calling GVTC to help you settle quickly.
You might consider calling for the outside preliminary installation at least two days before you move if you've made arrangements for your new place already.
One more thing:
Take out detachable cabinets and dresser drawers that come off and pack them with a protective wrap. You'll prevent cabinet drops and accidents, and make it easy to move.
To conserve space without breaking things, you should load heavy items at the bottom of the empty cabinets and light items on top.
Enjoy your packing and have a pleasant move!