Being stuck at home is not so bad when you've got fast Premium WiFi. Our Fiber Internet makes loading times a thing of the past. No more losing connection during your important business meeting, or missing the game winning touchdown from your favorite team. Upload speeds are more important than ever with a majority of our community working from home and participating in online learning. We strive to eliminate all issues and frustrations associated with the internet with our GVTC Premium WiFi.
GVTC Fiber Internet, has starting speeds from 100 Mbp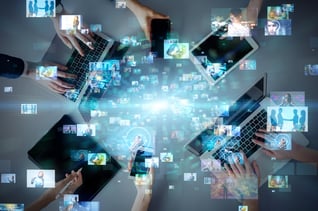 to speeds now up to 250 Mbps for both upload and download speeds, with options to upgrade up to 500 Mbps and 1 Gbps. What was already delivering blazing fast starting speeds now has no competition. To put things into perspective, let's compare the speeds between Fiber Internet and regular cable connection. An internet speed of 50 Mbps is usually considered a fast connection for regular cable but takes anywhere from 20 minutes to an hour to download movies or shows. With Fiber, a 1 Gbps speed could cut down an HD movie download from 22 minutes to about eight seconds.
Say goodbye to the days of 100Mbps Internet base-plans and hello to ultra fast speeds! This premium network is set to elevate the home streaming experience. With the growing demand for streaming capabilities, connected devices like Amazon Alexa or Google Home, and Smart Automated Home security monitoring, you'll want speeds that match your needs.