The 6 best channels to binge-watch holiday movies this year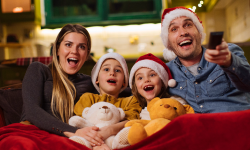 The holiday season has arrived! It's time to break out the decorations, enjoy too many delicious baked goods, spend quality time with loved ones, and, most importantly, binge-watch holiday movies! From the classics like Frosty the Snowman and Rudolph the Red Nose Reindeer to modern-day holiday rom-com movies, everyone loves a good holiday film. But where can you find all the best movies this year?
To help you out, we've compiled a list of the six best channels for you to find all the best holiday movies this year!
Hallmark Channel's Countdown to Christmas
A classic go-to, you always know you can count on the Hallmark Channel for original, feel-good holiday movies. As always Hallmark will be offering you holiday entertainment 24 hours a day, seven days a week throughout the months of November and December. Beating out all other channels, this holiday season Hallmark is bringing you over 40 original holiday films! And for more Hallmark holiday magic, be sure to check out the Hallmark Movies & Mysteries Channel's Miracles of Christmas.
It's a Wonderful Lifetime
Another dependable go-to for holiday entertainment, this year Lifetime will be kicking off its holiday lineup on November 5 with Merry Swissmas, starring Jodie Sweetin. After that be sure to tune in every Thursday, Friday, Saturday, and Sunday for a new holiday movie premiere! And to make sure you don't miss any movie premieres, Lifetime has put together a downloadable calendar with all their holiday movie premiere dates!
TNT & TBS Winter Break
Known for their annual 24-hour marathon of A Christmas Story starting Christmas Eve and continuing through Christmas day, this year TNT and TBS will be bringing you two more 24-hour movie marathons. On November 26, tune into TBS for 24 hours of Elf and on November 27 you can check out TNT's 24-hour marathon of National Lampoon's Christmas Vacation. Besides 24-hour movie marathons, starting in November both TNT and TBS will be offering a variety of Christmas classics including films like Fred Claus, The Polar Express, Dr. Seuss' How the Grinch Stole Christmas, and more!
Great American Family - Great American Christmas
Great American Family has you covered with holiday movies 24/7 throughout the months of November and December! Along with their fan favorites, Great American Family has 18 original holiday films they will be releasing this season, including Candace Cameron Bure Presents: A Christmas… Present produced by and starring Candace Cameron Bure. Fans can tune in every Saturday and Sunday night for a new holiday movie premiere.
UPtv Merry Movie Christmas
Starting November 4, UPtv has over 600 hours of holiday entertainment coming your way! Those 600 hours include 17 original holiday movies, as well as a new season of their unscripted series, Small Town Christmas which highlights holiday celebrations across the country, premiering December 5. UPtv will also be bringing back a fan favorite this year, their annual GilMORE the Merrier, a week-long Gilmore Girls marathon!
TCM Classic Christmas Movies
For those that prefer older classic films like The Bishop's Wife, or the 1938 A Christmas Carol, Turner Classic Movies has you covered. Starting in November, you can turn to TCM for all your classic black-and-white holiday favorites!
Don't have the channels you need to binge-watch your favorite holiday movies? Make sure you don't miss out on any holiday cheer this year. Contact us today to learn all about our different television packages and find out which one is right for you!
---