Celebrate Valentine's Day with Hallmark's Loveuary!
Nothing screams love more than the Hallmark Channel. Hallmark and romance are a match made in heaven. This year Hallmark is deeming February as "Loveuary."
All month long, Hallmark will celebrate love in all forms—from love at first sight to powerful friendships. It gives you the perfect excuse for a romantic dinner for two or a Galentine's day viewing party. Starting Saturday, February 5, you can tune in to see some familiar faces in three all-new movie premieres, including a special encore presentation of The Wedding Veil.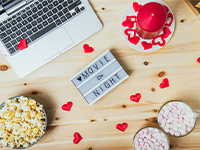 See below for a look at Hallmark Channel's "Loveuary" lineup and how you can watch them with the people and furry friends you love most!
Saturday, February 5 (8 p.m. ET/PT)
Stars: Lacey Chabert, Kevin McGarry, Autumn Reeser, Alison Sweeney
What's it about? As the first installment of Hallmark's newest trilogy, The Wedding Veil follows three college friends who've discovered an antique veil said to unite its bearer with their true love.
The Wedding Veil Unveiled
Saturday, February 12 (8 p.m. ET/PT)
Stars: Autumn Reeser, Paolo Bernardini, Lacey Chabert, Alison Sweeney
What's it about? In the second installment of The Wedding Veil trilogy, Emma travels to Italy to teach and research an enchanting wedding veil said to bring its owner love. During her time abroad, she meets Paolo, the son of a local lace-making family.
The Wedding Veil Legacy
Saturday, February 19 (8 p.m. ET/PT)
Stars: Alison Sweeney, Victor Webster, Lacey Chabert, Autumn Reeser
What's it about? In the final installment of the trilogy, Tracey meets Nick, who helps her preserve an original draft of "The New Colossus." In return, Tracey helps Nick with his restaurant, but as they get closer, Tracey begins to get cold feet.
Welcome to Mama's
Saturday, February 26 (8 p.m. ET/PT)
Stars: Melanie Scrofano, Daniel di Tomasso, Lorraine Bracco
What's it about? Amy inherits an Italian restaurant in the heart of Brooklyn. When she teams up with a master chef to help with the restaurant's relaunch, sparks begin to fly.
So, grab your remote, your favorite beverage, a sultry scented candle, and fire up one of these films for a cozy night in!
---