The best tech gadgets you need to add to your home office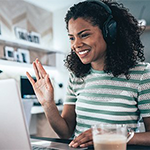 A recent survey showed that nearly 60% of employed Americans have the option to work remotely at least part-time. Since 2020 more and more employers are moving to remote or hybrid work options for their employees. And as the number of people working from home increases, so does the need for awesome home office tech gadgets.
If you are working from home or just looking for a way to spruce up your home office, here are some awesome tech gadgets you may want to consider buying!
Webcams
OBSBOT Tiny – Smart PTZ Webcam
Both a webcam and a personal videographer, the OBSBOT Tiny webcam uses AI tracking to make sure you always stay in the frame. Mounted on a 2-axis mechanical gimbal, tracking is seamless and smooth. The camera has 1080p resolution and low light correction, so you'll always come across crips and clear. Best of all, the camera works with both Mac and PC and is compatible with all major streaming meeting platforms like Zoom and Google Meet.
Meeting Owl
The Meeting Owl, it's adorable and efficient. If you often attend virtual meetings with multiple attendees, both in person and remotely, you need the Meeting Owl. Whether you are in the same room or remotely meeting, the Meeting Owl is able to recognize which participant is speaking and rotate its head 360 to focus on the person speaking. Besides having a rotating 360-camera head, the Meeting Owl also has 360-voice capability making sure everyone in the room is heard clearly.
Although this may sound complicated, the Meeting Owl is quick and easy to set up. Plug in the power and connect with your USB, and you are ready to go!
Logitech C920S HD Pro Webcam
If you're looking for something a little more basic, but still want to upgrade from your laptop's built-in camera (and not break the bank), check out the Logitech C920S HD Pro Webcam. This camera records at 1080p and comes with great autofocus and tracking capabilities. It even works well in low light too!
Desk and Desk Accessories
Fezibo Electric Standing Desk
We all know how bad sitting at a desk all day can be on your physical health, and thanks to the growing popularity of standing desks, we now have an easy solution. But standing desks can often be small or cumbersome to adjust. With the Fezibo Electric Standing Desk, you can easily adjust from standing to sitting with the simple touch of a button. You can store up to three different height options in the desk's memory. The desk can rise as high as 46 inches and as low as 27 inches. And no need to worry about weight, the desk can hold up to 155lbs, more than enough for a full-size computer and multiple monitors if needed.
The desk comes in a variety of colors and designs, making it easy for you to pick one that matches your office aesthetic
GIM Wireless Charging RGB Mouse Pad
Mousepad, keyboard pad, and wireless charging mat all in one! The GIM Wireless Charging RGB Mouse Pad is a space-saving device that will lat flat across your desk. It provides a smoother anti-slip surface, perfect for holding your keyboard and place, and the ideal surface for your mouse. One side of the pad features a wireless charging pad to charge your phone without pesky cords. Aesthetically the pad features an LED light ring around the perimeter that can be set to rotate between 10 different colors or a single static color. If LED lighting isn't your thing, this feature is easily turned off with the touch of a button.
ODISTAR Desktop Vacuum Cleaner With Wireless Charger
Enjoy taking your lunch at your desk? With the ODISTAR Desktop Vaccum Cleaner, you no longer have to worry about possibly leaving behind crumbs. This handheld vacuum is perfect for cleaning up any particles you may find on your desk, including dust, pet hair, and the occasional crumb. Best of all, it's stylish, so you don't need to worry about hiding it away!
Decor and Clocks
LaMetric Time
More than just a clock, the LaMetric Time is a cool-looking LED dashboard for your life! The clock can be used to display the time (obviously) as well as the weather, stock quotes, news alerts, calendar appointments, and more!
Meural Canvas II
The Meural Canvas II is the perfect smart frame for any art lover. This smart frame combines a modern design with high tech to allow you to display the art you love in lifelike detail. You can choose to display a rotating selection of art from your favorite artists and genres, or you can choose to showcase your own photos. Tired of a photo? Simply wave your hand in front of the frame for a new image!
Fitness
WalkingPad Mini Foldable Walking Treadmill
As we already mentioned, we all know sitting at your desk all day is bad for your health. With this compact foldable walking pad, you can get your steps in right at your desk. The WalkingPad Mini Foldable Walking Treadmill is small enough to slide right under your walking desk to create a treadmill desk.
Cubii JR2 Seated Under Desk Elliptical
If you want to up your desk fitness game, consider purchasing a Cubii JR2 Seated Under Desk Elliptical! With this mini elliptical, you can get more than just steps in while you work, you can pedal. While not so intense that it will distract your work, this elliptical does come with eight resistance levels and a built-in LCD so you can keep track of your progress.
More cool gadgets you need for your home office (that don't fit in any other category)
Comfier Heated Footrest
If you have cold toes, you need the Comfier Heated Foot Rest! This heated footrest's compact size will fit perfectly under your desk. You can slide your feet under the provided cover to warm up your toes or simply place your feet atop the memory foam footrest to warm the bottoms of your feet.
Ember Temperature-Control Smart Mug
A cup of coffee. A staple in almost everyone's workday. But is there anything worse than a cold cup of coffee (if hot coffee is your thing)? With the Ember Temperature-Control Smart Mug, you can take your time enjoying your cup of joe without the worry of it getting too cold. This mug is designed to keep your hot cup of coffee at your desired temperature for up to an hour after it is poured.
Airmega 400
If you're going to be stuck in your home office all day, make sure the air you are breathing is clean! The Airmega 400 has been an Amazon Choice for quite some time, and for good reason. This smart air purifier has an intelligent room sensor that will measure the room's air quality in real-time and automatically adjust it to clean the air. When the air is clean, an auto-shutoff feature will turn the device off, helping you save on power bills. The unit can cover up to 1,256 sq feet and works with Alexa. It also has a smartphone app that allows you to manage and monitor your air quality remotely.
Don't forget the internet…
If you're working from home, even just part-time, you need a fast and reliable internet plan. Ranked as one of the fastest internet connections nationwide, click here to learn all about GVTC's internet options.
---