The GVTC Foundation Awards SJRC Texas with Here For You Award
In 2020, our community was heavily impacted by Covid-19. The GVTC Foundation Board of Directors decided to dissolve the National Public Charity donation and keep 100% of the funds for our local community by recognizing one of our partners with an unsolicited donation.
Instead, the decision was made to award these funds to a local nonprofit under a new award name. The GVTC Foundation Here for You Award annually grants a $5,000 donation to the local nonprofit with the most GVTC employee votes.
The GVTC Foundation Here For You Award recognizes a local nonprofit partner for their positive work in our community. After reviewing all 128 partners we have, The GVTC Foundation Grants Committee narrows down the selection and names the top three candidates. GVTC employees are presented with information about the candidates and asked to cast their vote for the winner.
The employee's choice for 2022 Here For You award was SJRC Texas.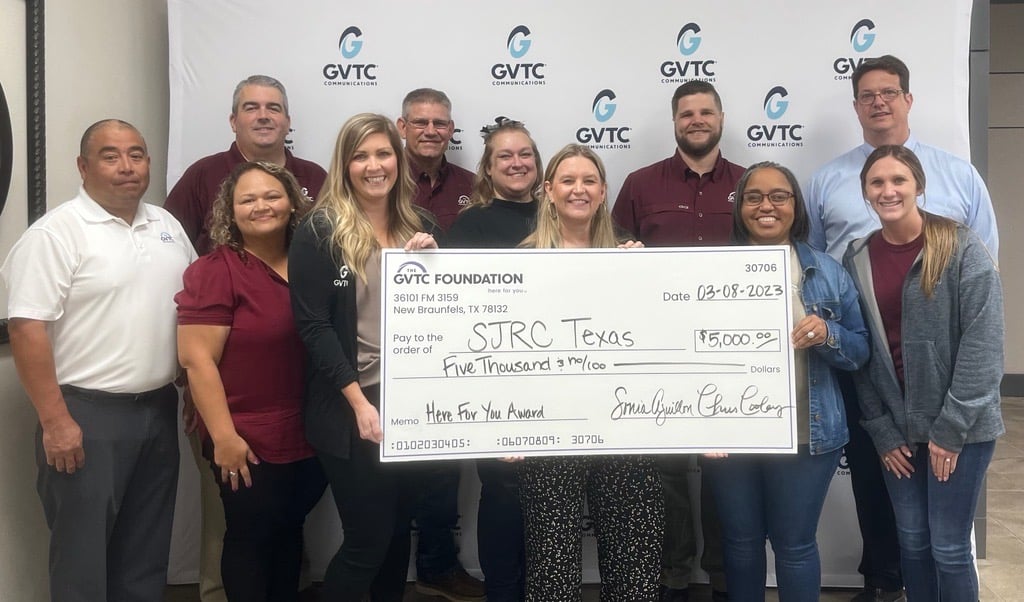 SJRC Texas, Formerly St. Jude's Ranch for Children, offers healing and hope to children and families affected by abuse, abandonment, or neglect. Their vision is that abused and neglected children will be empowered to grow up to be happy, productive, and caring adults.
Your participation helps make a difference for each of the organizations. Donations allow The GVTC Foundation to give to many organizations in our areas. Make a donation today, and GVTC Communications will match, dollar for dollar. We greatly appreciate all contributions that are helping those in need in our community.
Join The GVTC Foundation in its mission to enhance the quality of life in the communities we serve.
---