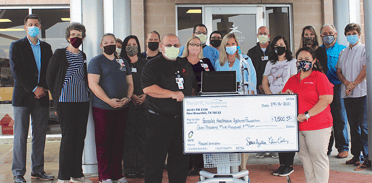 The GVTC Foundation donated $7,500 to the Gonzales Healthcare Systems Foundation to help purchase a ventilator. The hospital was in dire need of a five way ventilator, a multipurpose vent, that is used for various life saving procedures.
When COVID-19 hit, the hospital didn't have a ventilator. All patients in need of this support system were having to be transferred to Austin or San Antonio. The State of Texas provided the hospital two ventilators to use during the height of the pandemic, but are now requesting they be returned.
Luckily, the hospitals have been able to find the ventilators at a discounted rate. This is when the hospital reached out to request assistance from The GVTC Foundation. Our contribution was only a portion of the cost, but definitely a significant factor in them getting the life saving machine. The ventilator is easy to use and is housed in the ER department but can be used by multiple departments in the hospital.
The Gonzales staff was so appreciative of our donation to help them purchase the machine. In the photo is the hospital department leads, Gonzales Healthcare Systems Foundation Executive Director, and Gonzales Healthcare Foundation Board of Directors. The night before this photo was taken, the ventilator was used to stabilize a patient, until they could be transferred out for additional care. Without the ventilator, the patient would not have survived.