The need is greater than ever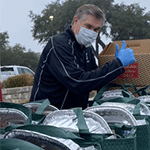 November is right around the corner, and so is The GVTC Foundation's largest community project of the year, Thanksgiving Giveback. The GVTC Foundation, is GVTC's employee-driven philanthropic arm, we believe no family should worry about where their next meal is coming from, especially not on Thanksgiving. We need your help to ensure we meet our goal of providing meals to 400 families this year. We can't do it alone, so we truly depend on our community's support to ensure as many families as possible don't go hungry this Thanksgiving season.

Since the project's inception in 2013, Thanksgiving Giveback has grown tremendously. It started with 67 families, and with assistance from our community partners and our #GVTCTeam, we have personally delivered over 1,000 meals to families over the last seven years. In 2019, we collected enough items to provide to 313 families across our service area.
We provide each family a frozen, uncooked turkey, stuffing mix, instant potatoes, cranberry sauce, green beans, corn, gravy, yams, bread, and dessert. We have also been able to include a turkey cooking bag and an aluminum turkey pan. We then partner with local food pantries, who select the families that will receive the meals.
As our project continued to grow, we identified opportunities for assistance from our community partners. We extended the opportunity to help with the project to youth groups and then invited other community organizations, schools, and churches. Our partners work to complete a food and monetary drive, which benefits the project's needs.
We are so excited to give back to our community again, especially with the hard times the COVID-19 Pandemic has brought to so many families. We are grateful for the support we receive every year and hope to make this year's Thanksgiving Giveback the best one yet!
Where do I donate?
Donate $25 to purchase the full meal or donate food from the list now through November 15th.
Monetary donations can be made by:
- Texting the word "GIVE" to 830-256-8855
- Online at

gvtc.com/gvtc-foundation

. Click Donate
- Mailing a check to GVTC Foundation, 36101 FM 3159 New Braunfels, TX 78132
Customers can also add a one-time donation to their monthly statement. Contact Customer Care at 830-885-4411 if you would like to donate using this option.
Food donation arrangements can be made by emailing the project coordinators at info@gvtcfoundation.com.
Food Items Needed
- Instant Mashed Potatoes
- Jellied Cranberry Sauce (canned)
- Green Beans (canned)
- Corn (canned)
- Gravy (canned or packet)
- Stuffing (instant)
- Sweet Potatoes/Yams (canned)
- Aluminum Turkey Roasters
- Turkey Oven Bags
- Frozen Turkey (12-15 lbs., only accepted the week of delivery)
- Loaf of Bread (fresh, only accepted the week of delivery)
- Dessert (frozen or fresh ones only accepted the week of delivery)
If you would like to help or have additional questions on the project, please email info@gvtcfoundation.com or call 830-885-8205.
Please share our project with #ThanksgivingGB20