The GVTC Foundation is Here For You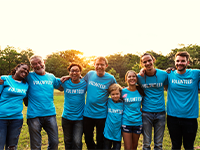 We are local. People-oriented. Impactful. The GVTC Foundation is our philanthropic arm dedicated to building and supporting stronger communities throughout our service area. The Foundation is 100% operated by employee volunteers, with support and contributions coming from donors, employees, and the GVTC company. Since 2006, The GVTC Foundation has given back over $4.8 million, investing in you and those around us.
Through integrity and empathy, The GVTC Foundation connects the community to opportunity. We are enacting positive change in six key areas of giving: health and human services, youth programs and services, volunteer emergency services, education, cultural programs, and public charities.
Grants
We believe in the power of working together to improve our communities. See how we're supporting the initiatives that matter most to the people in our service area.
Scholarships
Our mission is to build stronger, more empowered communities via opportunities in education. Check out how The Foundation has supported high school students pursuing their dreams in higher education.
Thanksgiving Giveback
Our biggest project of the year. Partnering with local food pantry organizations to raise food items and monetary donations, we reach families in need over the holidays.
Donate. Contribute. Volunteer
Plant a seed in your community. Join the GVTC Foundation in its mission to enhance the quality of life in the communities we serve.
From the technology connecting homes to the initiatives connecting people, GVTC and The GVTC Foundation are dedicated to building a stronger, better community in your neighborhood. We want to hear from you! Get in touch with The GVTC Foundation today!
---