Support for Rural Broadband | TX Universal Service | GVTC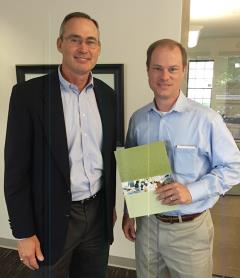 Thanks to State Representative John Cyrier, District 17, for taking time out of his busy schedule to meet with Robert Hunt, GVTC vice president regulatory affairs & business operations (pictured left).
Robert recently went to Austin to advocate for continued support of the Texas Universal Service funding to ensure rural Texans are not forced to depend strictly upon wireless or satellite services for broadband connections.
Robert also brought Representative Cyrier up to date on GVTC's commitment to rural broadband deployment which includes GVTC's 2,200 mile fiber optics network that delivers fast internet speeds, up to 1 Gbps, and covers the GVTC GigaRegion®.
Representative Cyrier was elected in 2014 to serve District 17, which covers most of GVTC's service area around Gonzales and Waelder.